YOUNG ARTIST FACINATED BY BUDDHA DRAWING A BUDDHIST TRAVELOGUE
Posted by Editor on May 17, 2012 - 8:07 pm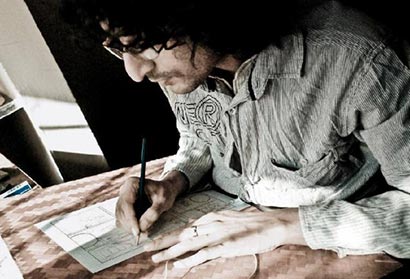 Onlanka News – By Walter Jayawardhana
One of India's famous comic book artists Bharath Murthy recently told the Hindu newspaper that he first got converted himself to be a Buddhist and now writing and drawing a comic book, "The Vanished Path" a travelogue related to the Life of Buddha and the historic sites connected with his life.
He said, "I converted to Buddhism after I read the Pali teachings. There was nothing in it that I could disagree with. After this, I went on a pilgrimage to the places associated with the Buddha — Nepal, Bodhgaya, Kushinagar, Nalanda and so on. It took me about a month to visit them all and I decided to build a narrative out of it. The story is about travelling and the discovery of a part of history never told."
Bharath's stint with comics began when he reproduced the likes of Tintin, Asterix and tried to imitate R.K. Laxman cartoons. "At first, it was just trying to copy it and get it right. I later moved on to drawing and then studied Art. But I soon realised that didn't work for me. I studied Cinema and worked in it for a short while (he was one of the assistant directors of "Bheja Fry") before returning to comics," he says.
The manga influence
The Hindu said, "Among Bharath's major influences are Japan's manga comics. "I became involved in comics after being introduced to manga. There are so many self-published comics and sub-cultures there. It's a huge world of its own. These books taught me a lot about cartoons, and until I read them, I never really thought of comics as a way to express oneself. Usually, in the Indian context, comics play the role of retelling stories. But manga is a form of literature even; I understood their significance," he explains. In 2010, Bharath made a feature documentary on Japanese comics culture "The Fragile Heart of Moé", co-produced by NHK, Japan.
"Bharath divides his time between finishing his book and conducting cartoon workshops. "My workshops are for beginners. I introduce children to this art form. They're usually a week-long and allow me to meet all kinds of people; some who've never read a comic in their lives and others who know exactly what they like."
"A couple of years ago, he started Comix India, an Indian comic magazine. "In India, there is no platform for Indian comics and so I started this magazine, which is on a 'print-on-demand' basis. If you order a copy online, you get a digital print. We put it out when we can gather enough inputs from artists. Most of our contributors are aspiring artists, only seven or so are regular. It's about giving them an opportunity to present their skills. We've published five volumes so far, each with 150 pages or more."
"Bharath hopes to specialise in travelogue-based comics. "Comics can tell stories more easily than cinema and there are so many things you can explore. I would like to do autobiographies too. I feel there is not much realism in the Indian comic scene though there is enough happening in our world. You don't see much contemporary art, and that element needs to come in," he says."
Latest Headlines in Sri Lanka