'Even President cannot send me on retirement'
Posted by Editor on January 12, 2011 - 9:12 am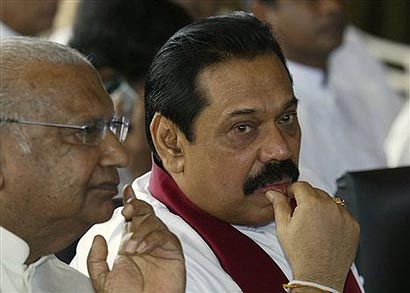 Source: DM Online – By Sandun A Jayasekera
Senior Minister on Good Governance and Infrastructure, Ratnasiri Wickramanayaka yesterday said even the President could not send him on retirement unless he retired on his own will as he is an elected Member of Parliament.
Addressing the media after assuming office at the Senior Ministers' Office Complex in Colombo, Senior Mr Wickramanayaka said he does not intend to respond to the comments made by certain ministers on a statement n he had made earlier while he was abroad.
"I respond only to responsible people, he emphasized.
Commenting on the increase of the Cost of Living, Senior Minister Wickramanayaka said there were no instant solutions to the increase of the COL.
The only long term, tangible solution is to increase domestic production. The issue of COL cannot be resolved by importing eggs from India.
"We were used to a certain pattern of governance through the cabinet system of administration. There was a secretary, a separate building and an administrative set up at each and every ministry. Today we are in a new system of management where no responsibilities in respect of specific departments or corporations have been brought under some ministries. But these ministries have a special job under different circumstances and under a different field," Mr. Wickramanaya stressed.
Mr. Wickramanatyaka vowed that he would never leave the party despite opposition claims that he had been disappointed over the new portfolio.
"Each and every sphere in the government comes under the purview of the good governance which functions under me. We must do our job properly but no one must poke into the functions of the line ministries. We must be careful not to offend ministers acting like a 'Bull in a China Shop' but work with cooperation and understanding, safeguarding their dignity," he emphasized.
Minister Wickramanayaka said mistakes could take place but all must be determined to go ahead while correcting themselves. All must be ready to listen to criticism as government members have been elected to serve the people.
Senior Ministers have been given two executive officers, a staff and funds.
The challenge is to do the job properly and diligently. The change of the name does not matter.
Responding to a journalist Mr. Wickramanayaka emphasized that he would never leave the party and those who know him better would vouch to it. He said he got a staff, two senior officers, finance and an office after he publicly said that he lacks them.
Latest Headlines in Sri Lanka