22 Tamil Nadu fishermen arrested by Sri Lankan navy
Posted by Editor on March 4, 2013 - 9:55 am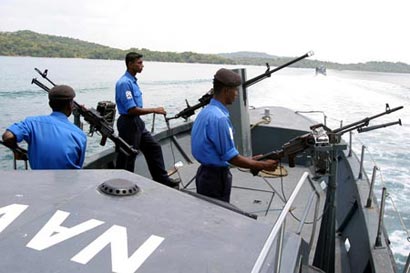 Submitted by Walter Jayawardhana
COLOMBO/TUTICORIN: Twenty two Indian fishermen were arrested on Sunday and their trawlers seized by Sri Lankan naval personnel for allegedly violating the island nation's international maritime boundary.
The fishermen from Karavaikulam in Tuticorin in southern Tamil Nadu were fishing in three mechanised boats and one country boat fitted with outboard motor off Kalpittiya when they were taken into custody by the Sri Lankan navy, fisheries officials said in Tuticorin.
They said the mechanised boats belonged to Anthony Muthu, Gnanaprakash, Palpandi while the country boat was owned Anthony Michale Nicholas.
Tuticorin assistant director of fisheries Prabhavathi said the 22 were arrested when they were fishing off Kalpittya in the north of Sri Lanka.
Quoting information received by the Coast Guard and Marine Police, Q-Branch Inspector Kennedy in Tuticorin said the fishermen had been taken to Kalpittiya.
In Colombo, a Sri Lankan Navy spokesman said 16 fishermen were arrested for violating Sri Lanka's international maritime boundary.
Fishermen in Sri Lanka's north had last month staged a protest march to ask authorities to prevent Indian fishermen from "poaching" in Sri Lankan waters.
The arrest of the Tuticorin fishermen came even as a large number of their colleagues from Ramanathapuram and Nagapattinam districts in a separate incident were early this morning pelted with stones and bottles allegedly by Sri Lankan naval personnel while fishing off Katchatheevu, causing damage to some boats.
The fishermen were fishing in about 1,400 boats near Kathchatheevu, an islet in Palk Strait ceded by India to Sri Lanka, when the Lankan navy men who came in a ship and a small boat allegedly attacked them, fisheries officials said in Rameswaram.
Incidents of Tamil Nadu fishermen coming under mid-sea attack is an issue in the state while their counterparts in Sri Lanka accuse them of poaching and demand action to prevent it.
Recently, minister of state in the PMO V Narayanasamy had said India and Sri Lanka were close to clinching an agreement on drawing a fishing boundary in the Palk Strait that would end recurring incidents of fishermen coming under attacks and being arrested on the charge of poaching. (Courtesy The Times of India)
Latest Headlines in Sri Lanka