A HILARIOUS BUDGET, FEW SOLDIERS HAVE A THIRD CHILD: SARATH FONSEKA
Posted by Editor on November 25, 2010 - 9:04 am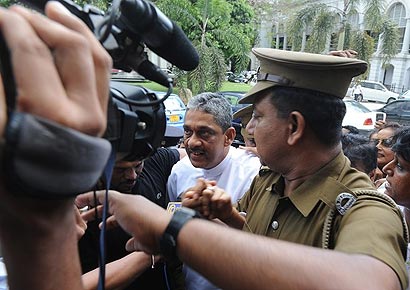 November 25, 2010: Few soldiers have a third child, says former Army Commander Sarath Fonseka.
He made these comments while leaving after the hearing of the white flag case was postponed yesterday.
"The hilarious budget has stated that a grant of Rs. 100,000 would be granted to the third child of a soldier. Not one in even among thousand soldiers has a third child. None of the officers has a third child," said former Army Commander Sarath Fonseka.
Meanwhile, Mrs. Anoma Fonseka said the case was getting postponed every day.
"But we hope that the courts will grant justice, because we cannot seek justice from anywhere else. And we are convinced that it would not be granted elsewhere," said Mrs. Fonseka.
"General Sarath Fonseka has to come to courts every day," said parliamentarian Arjuna Ranatunga.
"Day after day, there are more and more cases. There's also a serious issue on his security. One day there were problems here with regard to his safety.
"Even today, we see complete outsiders here. We earnestly request that adequate protection be provided," said
Courtesy: News First
Latest Headlines in Sri Lanka