A mass kiribath to serve 65000 people
Posted by Editor on November 10, 2010 - 12:06 pm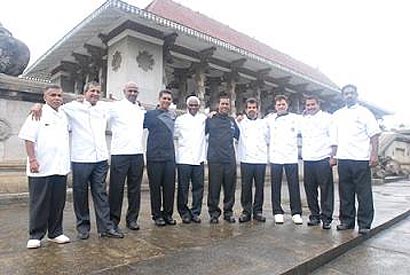 People of this country will have a rare opportunity to witness and taste the largest Kiribath prepared by our well known chefs in the country. This will be a show on the first day of the Novel Exhibition and Ceremonies held at Independent Square on 17th instant when the grand ceremony is declared open by the Head of State President Mahinda Rajapaksa at 7.00 pm on that day.
This novel exhibition and ceremonies has been organized by the government Information Department with the coordination of the Media ministry to coincide with the inauguration of the President's second term in office. The visitors to the venue will have the opportunity not only to witness the preparation of this Largest kiribath to the nation by a group of well known chefs working in five star hotels under the supervision of Dr Publish Silva but will have the time to taste it in the presence of the head of State and other representative gathering
The ingredients used for it will be 1200 kg of white rice, 300 kg of cashew, 250 kg of jaggery and 1500 coconuts and other varied items.
This exhibition will be open to the public from 2-10 pm daily between17th and 22nd November
News.lk
Latest Headlines in Sri Lanka