Abortion, legal if pregnancy causes danger to mother's life – AG
Posted by Editor on March 10, 2012 - 6:46 am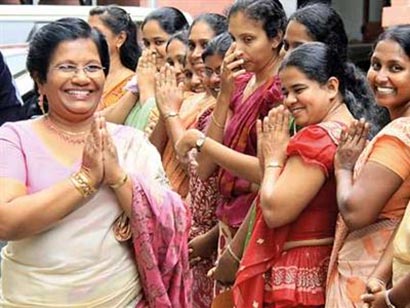 Granting a legal abortion to any 16 – year – old impregnated by rape, after a medical examination, is a timely need. According to the current law in Sri Lanka, an abortion is only legal if the pregnancy holds a threat to the mother's life, said Attorney General Eva Wanasundara.
The Child Development and Women's Affairs Ministry has initiated a wide ranging dialogue with members of academia about the amendment to the country's abortion law.
"Discussions are currently taking place among expert groups in Sri Lanka, headed by Child Development and Women Affairs Ministry Secretary Sumithra Rahubadda to grant a legal abortion,if any 16 year old is impregnated after rape. This decision has to be made only after conducting a medical examination, she added.
Attorney General Wanasundara was delivering the keynote address at the International Women's Day National celebrations held at Temple Trees on Thursday.
"The Women's Day is important to countries around the world as a celebration, but, to Sri Lanka, it holds greater importance this year. This importance stems from the fact that for the first time in Sri Lankan history, the legal field is governed by women.
'The whole legal field is a cradle rocked by women today."the Attorney General said. "When looking from a legal point of view at the United Nations Universal Declaration,the main document which addresses the protection of women's rights clearly states that women should not be treated differently. The constitution of Sri Lanka also states that women should not be treated differently based on gender,she stressed.
The Attorney General said if women are discriminated based on gender by government officials,it would be a human rights violation. When looking at society, it is evident that institutions of justice are approached by a large number seeking legal aid. In conclusion, she said men who harass and abuse women should look at women like their mother,sister or wife, with affection."
'Then tomorrow will be a better day for women," she said.
Courtesy: Daily News
Latest Headlines in Sri Lanka