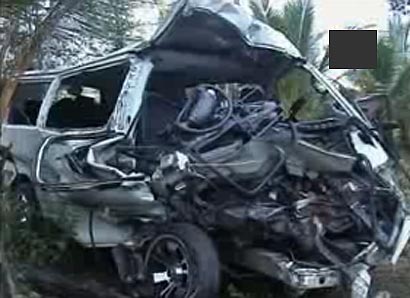 At least six were killed and eight others injured following a passenger bus bashed into a van proceeding from Kuruwita to Colombo at Ihala Kosgama on the Avissawella-Colombo road early this morning, the Police said.
Out of the fourteen people in the van six died, while the driver died on the spot, The Police said. One of the victims in the van was rushed to the Colombo National Hospital while the remaining seven are receiving treatment at the Avissawella base hospital, the Police said. There were no casualties reported from bus.
The passengers in a van were returning after attending a funeral and the bus was bound to Colombo from Walasmulla. The two vehicles collided head on in the Ihala Kosgama area in the Avissawella main road at 3.50am.
Avissawella police are investigating into the incident. (SD)
Source: DM Online