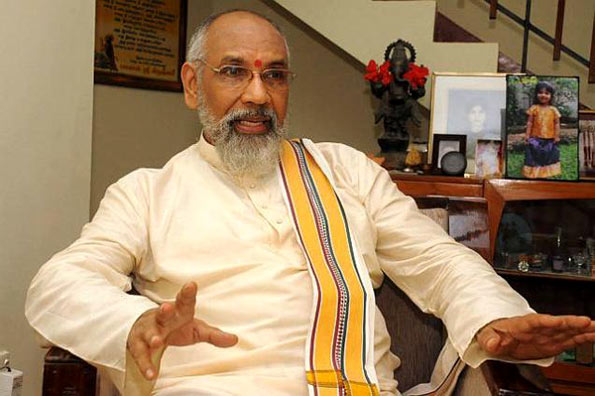 The Chief Minister of the Tamil-majority Northern Province of Sri Lanka, C.V. Vigneswaran, has said that accountability for the war crimes allegedly committed in the last phase of Eelam War IV must be established before the Sri Lankan government formulates a new constitution to address the basic political question.
Addressing the Tamil Peoples' Council in his capacity as its co-chairman in Jaffna, Vigneswaran said that the constitution planned by the government will not be drafted to the Tamils' satisfaction unless accountability issues were satisfactorily addressed prior to that.
He told the council that he had heard from someone involved in the constitution making exercise that the government is planning to brush accountability under the carpet by showing the international community before the September session of the UN Human Rights Council, that it is seriously working on a new constitution to address the political grievances of the Tamils. The plan is to get the new constitution passed by the March session of the UNHRC. By doing so, the government hopes that it can divert attention from the accountability issue and urge the Tamils to look to the future rather than look back at the past.
Vigneswaran said that it is essential for any Sinhalese-dominated government in Sri Lanka not to be seen letting down the predominantly Sinhalese armed forces. Therefore, every effort will be made to dodge the issue of accountability or water down the accountability process.
Government has already said it will not allow foreign judges. But the Tamil people cannot rely on the impartiality of Sri Lankan judges when the accused are military personnel as exemplified by the recent acquittal of six army officers in a case relating to the slaughter of 24 Tamils in Kumarapuram in Trincomalee district in 1996, Wigneswaran said. The Tamils must insist on having foreign judges in the proposed Judicial Mechanism, he emphasized.
(New Indian Express)