Acting AG doesn't find fault with President's action – Government Spokesman
Posted by Editor on October 31, 2018 - 8:42 am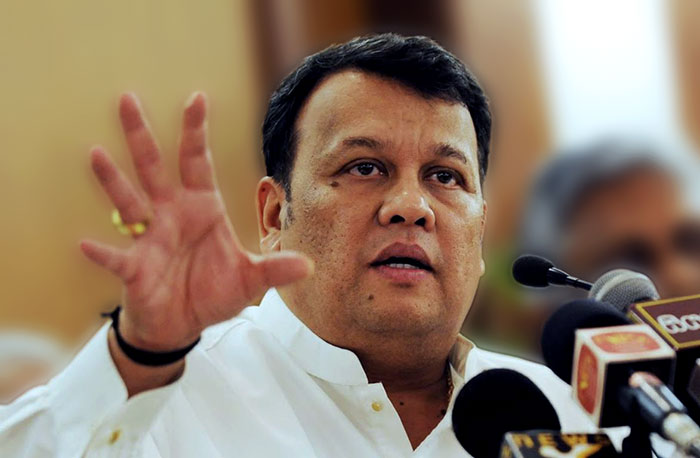 Government spokesman Ports and Shipping Minister Mahinda Samarasinghe yesterday said no less a person than the Acting Attorney General Dappula de Livera had pointed out the basis for the President's action, citing relevant gazettes (2094-43 dated Oct. 26.2018 and 2094-44 dated Oct. 26. 2018) and the 19th Amendment 48 (1).
Samarasinghe said Speaker Karu Jayasuriya had sought the Attorney General's opinion on the legal status of Mahinda Rajapaksa's appointment as well as his predecessor Wickremesinghe.
Samarasinghe displayed copies of emails sent by Speaker Jayasuriya and the one received by him from the Acting Attorney General.
Minister Samarasinghe and Co-Government spokesman Keheliya Rambukwella, MP, explained that the UNP could seek judicial interpretation of President Sirisena's action or move a no-confidence motion (NCM) in parliament.
They explained the UNP couldn't resort to an NCM overnight but follow procedures applied to all political parties represented in parliament.
Responding to another query, Samarasinghe pointed out that President Sirisena would ceremonially inaugurate the parliament on Nov 16. The minister ruled out any other business on that day.
Samarasinghe said that the ten-member Constitutional Council (CC) was likely to be reconstituted following Mahinda Rajapaksa's appointment as the Prime Minister last Friday.
Rajapaksa will succeed UNP leader Ranil Wickremesinghe in the CC.
Samarasinghe said the Opposition Leader's position in the CC currently held by the Tamil National Alliance (TNA) leader R. Sampanthan could go to the UNP.
Samarasinghe, who is also the SLFP spokesman and President Maithripala Sirisena's nominee in the CC, said so when The Island sought an explanation as to how the CC chaired by Speaker Karu Jayasuriya had responded to the change of government.
Samarasinghe said that he couldn't speculate about the Speaker's position while asserting there was a likelihood of change in all three positions––Speaker, Prime Minister and Opposition Leader.
Asked whether the Prime Minister Wickremesinghe's nominee, the then Justice Minister attorney-at-law Thalatha Atukorale and Opposition Leader Sampanthan's representative Chamal Rajapaksa, too, were likely to be replaced, Samarasinghe said that the CC would have to decide.
CC established in 2015 in terms of the 19th Amendment to the Constitution is empowered to make appointments/recommendations in respect of independent commissions as well as Supreme Court and the Court of Appeal.
At the time of President Sirisena withdrawing his support to the UNP last Friday leading to the automatic collapsing of the National Unity Government, the CC comprised Speaker Karu Jayasuriya, Prime Minister Ranil Wickremesinghe, Opposition Leader R. Sampanthan, President's nominee Mahinda Samarasinghe, PM's nominee Thalatha Atukorale, parliament's nominee Bimal Ratnayake, Opposition Leader's nominee Chamal Rajapaksa and three civil society members namely one-time top UN official Ambassador Jayantha Dhanapala, former Ambassador to Saudi Arabia Javid Yusuf and Naganathan Sellavakumaran.
MP Rambukwella denied that the country was experiencing a constitutional crisis. Prorogation of parliament which was to meet on Nov 5 couldn't be considered a crisis though various parties, including the media did so.
Asked whether they were sure of the required simple majority in parliament, Messrs Samarasinghe and Rambuwella pointed out the new government had the backing of over 120 lawmakers. Of those 126 lawmakers who had allegedly signed a petition on behalf of Wickremesinghe calling for immediate reconvening of the parliament, already four accepted portfolios in the new government, they said.
President Sirisena swore in 12 ministers, one State Minister and one Deputy Minister on Monday night.
Asked how the remaining appointments would be made, Samarasinghe said that President Sirisena and PM Rajapaksa would decide on them.
In terms of the 19th Amendment to the Constitution, a single-party government though free to accommodate members from other political parties could appoint maximum 30 member cabinet.
(Source: The Island – By Shamindra Ferdinando)
Latest Headlines in Sri Lanka