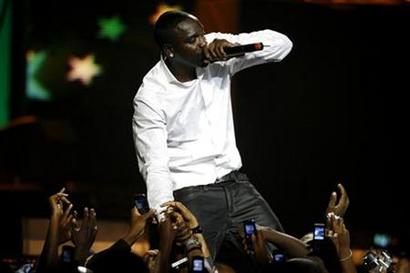 COLOMBO (Reuters) – Sri Lanka on Tuesday said it would deny a visa to singer Akon, whose planned April concert in the island nation sparked rock-throwing protests by Buddhists offended by one of his videos.
A day earlier, hundreds of people stormed the head offices of the Maharaja Broadcasting and Television (MBC/MTV) Network, a sponsor of Akon's planned April concert. Four employees were injured and windows and parked cars were smashed.
Akon's video for the song "Sexy Bitch" features scantily clad women dancing in front of a statue of the Buddha. Sri Lanka's ethnic majority Sinhalese are primarily Buddhists.
"Taking into consideration the allegations leveled against the singer Akon, the government had decided not to issue him a visa to conduct the concert in Sri Lanka," Anusha Palpita, the Government Information Department's director-general, said.
Palpita said that the main allegation against Akon was that he was "defaming Buddhism in his music videos."
Representatives for Akon could not immediately be reached for comment.
Sri Lanka's Buddhist clergy are hugely influential in ordinary life and politics, and in the past hardline Sinhalese nationalists have become violent against those they see as offending Buddhism.
The attack by an estimated 200 people on the pro-opposition network, which runs three TV and four radio stations from its headquarters in central Colombo, came as the campaign for parliamentary polls on April 8 heats up.
In December 2004, a hand grenade attack at a concert by Bollywood star Shah Rukh Khan killed two people and wounded 19, which was blamed on Sinhalese nationalists angry the concert fell on the first death anniversary of a renowned Buddhist monk.
(Editing by Bryson Hull)