ALL STUDENT UNIONS BANNED WITHIN SABARAGAMUWA UNIVERSITY
Posted by Editor on March 28, 2011 - 1:31 pm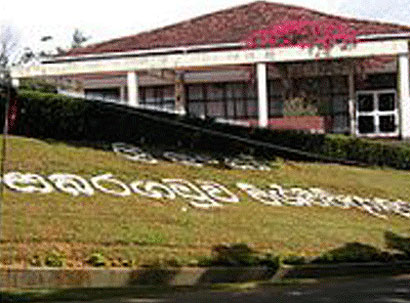 All Student Unions within the Sabaragamuwa University have been banned.
Vice Chancellor of the Sabaragamuwa University Prof. Mahinda S. Rupasinghe said that steps was taken owing to the indiscipline behavior of the students.
"We have banned the student union of the Sabaragamuwa university and five student unions in the faculties. We informed them and we also informed the president and the minister. The main reason for this is the violation of disciplinary rules at the Sabaragamuwa university and also insisting others to do so. Also, encouraging such acts and insulting the teaching staff and threatening them. Property has been  misused. We took this step owing to the activities that have brought disrepute. The main reason is that today a large number of innocent children who cannot study have been put on the road by them," said Prof. Mahinda S. Rupasinghe,Vice Chancellor.
Meanwhile the Inter University Student's Union charge that the banning of student unions at the Sabaragamuwa University took place owing to the political needs of the government.
"The banning of student unions was done solely based on a political decision. The students or even the student unions have not engaged in any disciplined behavior, for students union to be banned at the Sabaragamuwa University. We vehemently condemn this move. Although the main student union and all other student unions have been banned, this has not stifled the power of the students," said Sanjeewa Bandara, Convenor of the Inter University Students Union.
However Minister of Higher Education S.B. Dissanayake said that the discipline of students should be maintained in order to create a universal scholar.
"The children in Sabaragamuwa ragged the new students amidst the great protest of the teaching staff. They inconvenienced these children for one whole day by keeping them on a field while their parents had come to take them home. We cannot maintain a university like this. I do not mind if 100 or 300 children are sacked and the university is closed for a whole year. These children enter university with 3 A's. We need to send them out of university as universal scholars and not as destitute individuals. If the teachers obstruct this they will be sent home, if the students obstruct this they too will be sent home and we will go forward," said S.B. Dissanayake, Minister of Higher Education.
Courtesy: News First
Latest Headlines in Sri Lanka