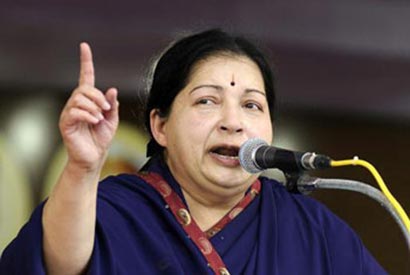 UN officials probing human rights violations in Sri Lanka must be given visas to visit India, Tamil Nadu Chief Minister J. Jayalalithaa said. Jayalalithaa urged Indian Prime Minister Narendra Modi to ensure that visas were granted to the UN officials.
In a letter to Modi released to the media Thursday, she said she was surprised to see media reports indicating that India had refused visas to members of the UN Investigation Committee.
"If … India has actually refused visas to the UN committee probing human rights violations in Sri Lanka, this would be a bitter disappointment to the people of Tamil Nadu who are determined to ensure that the Sri Lankan regime is held to account for its heinous acts against Tamils," the chief minister said.
She said India was Sri Lanka's closest neighbour and it was a place any team probing human rights abuses in Sri Lanka should visit to conduct its inquiries.
"Hence, I request you to kindly intervene and ensure that the international committee is granted the necessary visas and is in a position to complete a fair and impartial enquiry into the human rights violations in Sri Lanka," Jayalalithaa said.
(IANS)