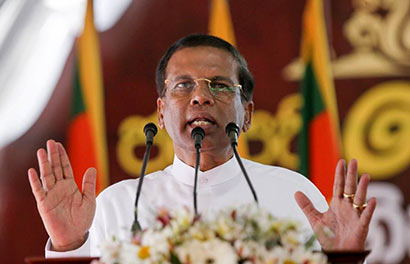 President Maithripala Sirisena said the relevant clauses of 19th Amendment to the Constitution will be amended and it will presented to Parliament on April 20. He said Parliament will be dissolved after the passage of the 19th Amendment.
Speaking in Polonnaruwa this afternoon, he said that this would help to bring clarity to what is seem as a confused political situation that prevails in the country today.
Earlier, the Supreme Court has determined that the 19th Amendment is consistent with the constitution and that, however, certain sections require a referendum, Speaker Chamal Rajapaksa informed Parliament today.
Prime Minister Ranil Wickramanayake stated that the sections which require a referendum will be omitted from the 19th Amendment.
The Supreme Court took up 19 petitions filed against the proposed 19th Amendment to the Constitution, which was presented to Parliament on March 24. The Supreme Court also heard seven intervening petitions in addition to the 19 petitions.
The petitions were taken up before a three Judge, Supreme Court Bench comprising Chief Justice K Sripavan and Justices Chandra Ekanayake and Priyasath Dep.
On Monday (06), the Supreme Court concluded the hearings on the 19th Amendment to the Constitution, which pushes for the amending of executive powers and restoration of independent commissions, while its decision on the constitutional reforms were notified to the Speaker.
(Government News Portal)