Animal sacrifice to go ahead
Posted by Editor on August 23, 2010 - 7:22 am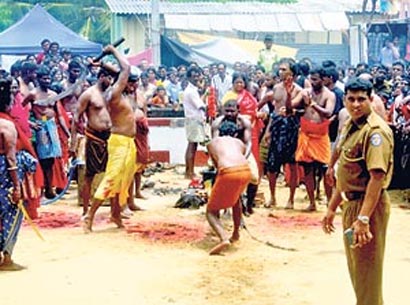 The animal sacrifice of the Chilaw Munneswaram Pathirakaliyamman Kovil will take place on Tuesday (25) despite protests from religious organisations.
The temple's chief priest, Kalimuthu Sivapatha Suntharam Kurukkal, told The Nation that the sacrifice had been taking place for generations and would continue to be held this year.
He claimed that people brought animals to the temple to be 'sacrificed' to the 'Pathirakaliyamman' Goddess.
He rejected allegations that the temple was misleading the people by making them to do this.
The priest's remarks came as the All Ceylon Hindu Congress (ACHC) condemned the planned animal sacrifice. Suntharam Kurukkal, however, said there was no reason for organisation to oppose this act, as it had been in practice for a long time.
"This practice has been going on for the past 13 generations. The animals will be offered to the Goddess and the meat will be given to the people. I see no reason for some to oppose the ritual," he said.
ACHC general secretary Kandiah Neelakandan alleged in a press statement on August 19 that such acts were committed by those who did not know about the religion.
"Our religion treats even animals as children of His Almighty and not only killing of animals, but even any cruelty to them cannot be tolerated in the precincts of a Hindu temple," he said.
Some Buddhist organisations have also protested against the sacrificial ritual.
The Nation
Latest Headlines in Sri Lanka