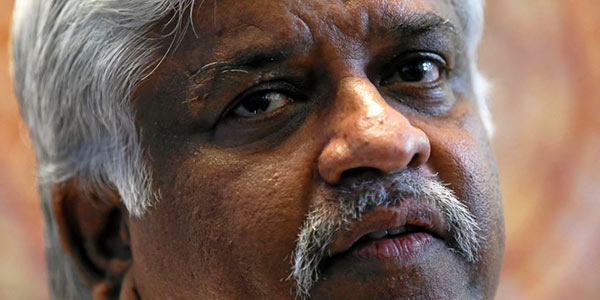 World Cup winning Captain and Minister Arjuna Ranatunga yesterday said that he would soon formally request Finance Minister Mangala Samaraweera to examine profits made by bookies on days the national cricket team lost international matches under controversial and arguable circumstances.
Petroleum Minister Ranatunga said so after attending a public service project at the Balapowa Sri Sudarmarama Purana temple, in Udugampola.
Ranatunga warned of dire consequences unless the Finance Ministry stepped in. There could be further turmoil in case the Finance Ministry refrained from taking tangible action against bookies making money at the expense of sport.
Declaring at the time he played cricket, gambling hadn't been an issue, Ranatunga pointed out that bookies were now in control of the once great game.
A thorough investigation was required to identify the culprits, Ranatunga said, adding that he would soon take up this matter with Minister Samaraweera.
(Source: The Island)