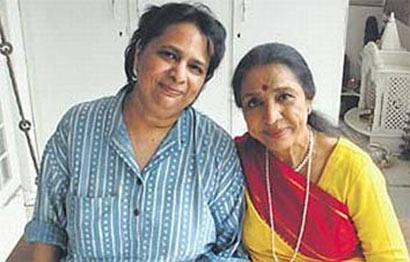 MUMBAI: Singer Asha Bhosle's 56-year-old daughter, Varsha, was found dead on a blood-soaked sofa in the Pedder Road flat she shared with her mother on Monday. She had shot herself in her right temple with the licenced pistol of her younger brother.
No suicide note has been traced, but police are treating it as one. Varsha had in the past tried to kill herself twice, they pointed out.
Asha Bhosle and other family members were in Singapore for an awards programme at the time of the incident. The singer rushed back in the evening after receiving the news.
"Varsha, who was undergoing several treatments, was perhaps suffering from depression," said additional commissioner of police Krishna Prakash.
Varsha's body was found by Asha's driver and house help in the drawing room of the singer's first-floor flat at Prabhu Kunj on Monday morning. "She used a Belgian 0.6mm pistol to shoot herself in her right temple while sitting on the sofa," said Prakash.
We found five more bullets in the pistol. She was wearing a night suit," said Prakash. "Our special branch constables first received information about the incident at 12.12pm and a police team arrived at Prabhu Kunj," said Prakash. The call apparently went out from the landline in Asha's flat. Neighbours said they hadn't heard a gunshot, said police. The time of death will be known only after the post-mortem.
Police sources said the weapon was issued in the name of Anand Bhosle, Asha's youngest son, who stays in Bandra. He was not in the country when the incident took place. Anand could face questions because the law says a person who is issued a weapon should not leave the firearm with anyone else.
On Monday, Deepali Dilip Mane, the house help, arrived at the flat at 9.15am. Despite several door knocks, she did not get any response. Asha's driver asked Mane to come after some time, saying Varsha might be sleeping. Mane returned at 10.30am, but still got no response. The driver then entered Asha's drawing room through the adjoining flat belonging to singer Lata Mangeshkar, Asha's sister. He found Varsha on the blood-soaked sofa and quickly opened the door to let in the others. Lata apparently broke down on seeing her niece's body.
After the inquest and recording of statements, Varsha's body was sent to J J hospital for a post-mortem around 4pm.
As soon as the news spread, mediapersons besieged the Prabhu Kunj building. Curious neighbours were seen peeping from their windows while some came, inquired about the incident and returned to their flats.
Born in 1956, Varsha briefly worked as a playback singer in Hindi and Marathi movies, and appeared in concerts with her mother. She made a career as a political columnist with a right-wing tilt. She had divorced her husband, former sports writer and PR professional Hemant Kenkare, in 1998 and had moved in with her mother in the Prabhu Kunj flat.
In 1998, Varsha attempted suicide by taking an overdose of medicines. In 2008, she again tried to kill herself, a day after Asha's 75th birthday, by taking sleeping pills. She was rushed to Jaslok hospital and saved. "She was undergoing treatment by two Pune-based doctors at the moment. We will record their statements about the treatment," said another policeman.
Police said Varsha wanted to start an orphanage with glamour photographer Gautam Rajadhyaksha and became upset after his death. She had been on medication since.
Music director Anu Malik, who has known Varsha for nearly three decades and met her last in July, said he couldn't believe his friend had met with such a painful death. "There were so many times I asked her to sing for me, but she would refuse, saying that she didn't have a good voice. She didn't like discussing her personal life with anyone," he added.
Source: Times of India