Aung San Suu Kyi's party wins a Parliamentary
Posted by Editor on April 2, 2012 - 4:33 pm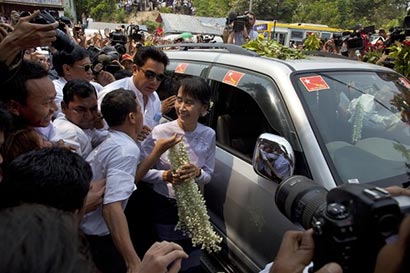 The 66-year-old Nobel Peace Prize laureate Aung San Suu Kyi whom the former Military junta of Myanmar had kept imprisoned in her lakeside home for the better part of two decades has won a seat in the Parliamentary elections held in Myanmar yesterday.
The victory would mark a major milestone in the Southeast Asian nation where the military has ruled almost exclusively for a half-century and where a new reform-minded government is seeking legitimacy and a lifting of Western sanctions.
Yesterday's by-election was called to fill 45 vacant seats in Myanmar's 664-seat national Parliament and will not change the balance of power in a new government that is nominally civilian but still heavily controlled by retired generals.
Reports said that Aung San Suu Kyi's victory has resurrected hope among Myanmar's downtrodden masses, who have grown up for generations under strict military rule. If Suu Kyi takes office as expected, it would symbolize a giant leap toward national reconciliation.(niz+).
Source: Government News Portal
Latest Headlines in Sri Lanka