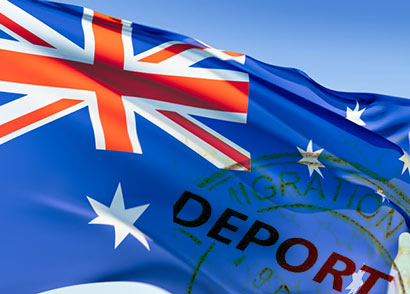 Australia on Wednesday sent 100 Sri Lankan men deemed not to be refugees back to their homeland, bringing to 426 the number involuntarily returned to Colombo in the past three months.
The latest planeload is the ninth and largest this month as Canberra deals with an influx of more than 15,500 asylum-seekers who have arrived on boats since the beginning of this year.
"Our humanitarian programme is for people who are at risk of persecution, not for people seeking to undertake economic migration," Immigration Minister Chris Bowen told reporters.
"We will continue these returns for as long as it takes."
A further 99 Sri Lankans have returned home voluntarily rather than face the prospect of spending years on a remote Pacific island waiting for their refugee claims to be processed.
Australia has pledged to crack down on asylum-seekers arriving by boat after a spate of drownings en route and is sending boatpeople to the island of Nauru and Manus Island in Papua New Guinea as a deterrent.
"We will continue to return people to Sri Lanka, we will continue to transfer people to Nauru, and now to Manus Island as well," Bowen said.
More than 7,800 boatpeople have arrived in Australia since the policy was announced in August, and officials have noted a rise in Sri Lankans making the treacherous journey.
"The message here is very clear: people who pay smugglers are risking their lives and throwing their money away," Bowen said.
"They are being told lies. There is no visa on arrival, there is no speedy outcome, and there is no special treatment."
Sri Lankan authorities have arrested more than 1,200 people trying to leave the island illegally this year.
Many who depart Sri Lanka for Australia pay up to US$3,000 for a place on fishing boats run by people-smugglers.
Australia also completed the first involuntary return of a man to Afghanistan on Tuesday under Canberra's return agreement with Kabul. (AFP)