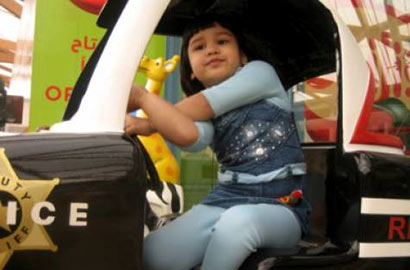 Dubai: The authorities in Dubai have stepped up their efforts to reunite little Elina with her father Chris after reading about her plight in XPRESS even as offers to help the five-year-old keeps pouring from all corners every day.
"We have taken up this case and moved it to the Department of Children's and Women's Protection of Dubai Police. We are trying our best to safeguard the child during this time of her crisis," Captain Mohammad Nagi Alolaqi, Head of Cases Affairs Section, General Department of Human Rights, Dubai Police, told XPRESS on Wednesday.
Earlier this week, XPRESS had approached the Dubai Police on behalf of the child who was rendered homeless after her single father was arrested for overstaying illegally.
The Sri Lankan man now faces charges of bounced cheques and defaulting on credit card payments. Elina's Filipina mother abandoned the child when she was barely three months old and hasn't since returned to the UAE.
"Please help me come out [of jail]. I have no money and no means to go back to Sri Lanka but I want to take Elina with me back home and put her in a good school," Chris told XPRESS on phone from Muraqqabat police station.
"We are keen to help Elina, but we need to establish the background firmly. The father's visa expired a long time ago and the child has no registration or identification documents.
"We are in touch with our government in Sri Lanka regarding how soon can we arrive at a solution," M.M. Abdul Raheem, the Sri Lankan Consul General in Dubai, told XPRESS.
Earlier last week, Abdul Raheem requested the authorities in Dubai to conduct a paternity test on Elina's father to establish whether he was indeed Elina's biological father.
The test was originally scheduled for Tuesday but it was postponed to Thursday.
"We can start looking into registering Elina with the government of Sri Lanka once the results arrive," Raheem said.
Interim care
Tina De Silva, an acquaintance of the father, has been taking care of the child in the interim.
"She has been with me ever since her father was put in jail on January 5, but it's taking a toll on her because she is being to forced to accompany me everywhere I go, even to my work. I simply can't leave her alone anymore till her father is out," she said.
Like most children of her age, Elina's exuberance is heart warming. She loves posing, playing pranks and mimicking faces.
She is exceptionally sharp as well, managing to speak in broken Arabic, Bengali, Tagalog and Tamil despite never having learnt to write owing to her lack of proper schooling.
However, the girl with distinct Filipina looks speaks fluid Sinhalese, having spent all her life in temporary homes  — apparently in parks and staircases — with her father who lost his job just after she was born in 2009 and has since overstayed.
(Source: gulfnews)