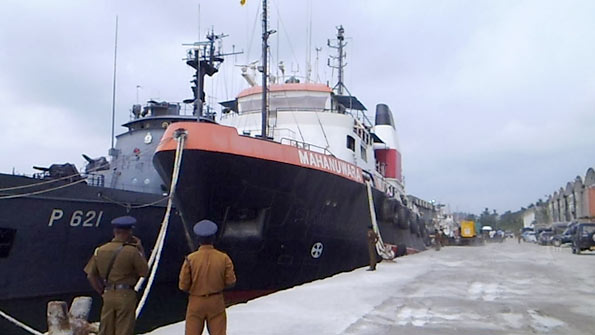 D.M.S. Dissanayake, Senior Assistant Secretary in the Defence Ministry and the officer-in-charge of Civil Security, has come under investigation over the controversy surrounding the Avant Garde Maritime Services Limited.
Dissanayake was the official who wrote a letter to the Navy Commander to release the vessel containing a consignment of arms for Avant Garde Maritime Services Limited. Highly placed sources from the Defence Ministry told the Daily News that the ministry would investigate whether the senior official actually had a "mandate" to issue a letter of that nature, seeking the release of the vessel. The Navy handed over an inquiry report on the matter to Defence Secretary Karunasena Hettiarachchi yesterday.
After receiving the investigation report on the Avant Garde arms ship, jointly conducted by the Navy and the Coastguard, the Defence Ministry decided to initiate a comprehensive probe.
Defence Secretary Hettiarachchi yesterday confirmed that the ministry received the investigation report on the Avant Garde arms ship.
Hettiarachchi disclosed that the report has raised several serious issues related to the arms ship Avant Garde armoury which arrived in Sri Lanka from Sudan on October 5. The armory is anchored at the Port of Galle. It was taken under Navy custody and investigations were carried out allegedly due to the false information provided by the ship Captain.
The Avant Garde vessel is alleged to have brought unauthorised firearms from Sudan to the Galle Harbor. The vessel belonging to the private maritime security firm Avant Garde had reached the Galle Harbor on October 5 after leaving the main Sudanese Harbour on September 10.
Upon inspection, the Navy found that the vessel brought over 800 weapons and firearms into the country.
(Daily News)