Babul Beeda seized
Posted by Editor on October 28, 2010 - 6:52 am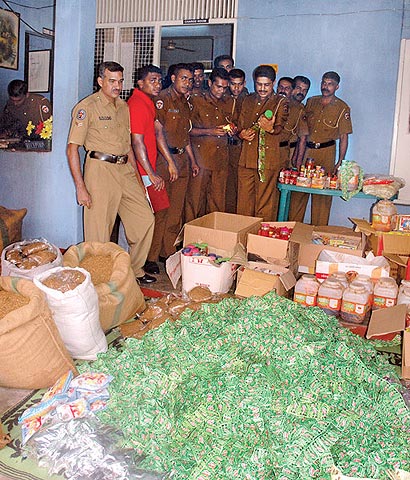 The Aduruppu Street Police yesterday seized two separate hauls of the illegal drug Babul Beeda worth of Rs 2 million and arrested two suspects.
The Police acting on a tip off arrested one person at the Gaspaha junction and found Babul Beeda and a mixture of cannabis powder and tobacco powder that were used to prepare Babul beeda.
The haul weighed 25 kgs and its wholesale market value was around Rs 200,000.
The Police on information provided received by the first suspect seized another haul of Babul Beeda and a mixture weighing 125 kgs hidden in a store at Barber Street. The mixture used to prepare Babul Beeda were packed in 102 packets. The Police said the wholesale price of the goods were around Rs 1.8 million. The Police also arrested the suspect who was allegedly in possession of the illegal drug.
Police also said that although the wholesale price of the drugs was Rs 2 million the market value could be much higher.
The suspects were all aged around 37. Police found that the suspects had engaged in the illegal business for a long period. Both of the suspects were residents of Aduruppu street.
The Aduruppu Police are conducting further investigations. A group of Police led by Aduruppu Street Police Officer in Charge IP Geethaka Bodhipaksha conducted the raid on the instructions of ASP Jayaratne.
Daily News
Latest Headlines in Sri Lanka