Bahu to be arrested?
Posted by Editor on February 10, 2014 - 8:13 am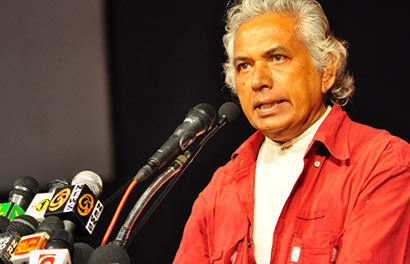 The police said yersterday the Leader of the Nawa Sama Samaja Party (NSSP) and the Gampaha District Leader, could be arrested in the wake of allegations levelled against the NSSP over the submission of fake nominations and false details of candidates in the nomination list.
The Additional Elections Commissioner for Gampaha has lodged a complaint with the Gampaha Police Elections Unit, about the fake details of four candidates contesting the Western Provincial Council (WPC) election from the Gampaha District. The nomination list with the fake details had been submitted by the Nawa Sama Samaja Party Leader, Dr. Vickramabahu Karunaratne.
Police Media Spokesman, SSP Ajith Rohana, confirmed that information submitted with regard to four candidates had not only been false but one of the four offenders had gone abroad, as well. He added that Election Laws will be enforced against the signatories and those who had furnished false information.
"They will not be arrested right now as the investigations are not yet over," SSP Rohana told Ceylon Today.
The NSSP has claimed that the only discrepancy regarding the information on the nomination list pertains to the addresses given by two of the female candidates.
"This came about with a proposal which the Retired Teachers' Association brought to our Party. As they have helped the Party before, and were helping us this time as well through their voter base, we decided to accommodate their request to have two or three female teachers contesting from Gampaha. There was however a problem because two of them, although they are from Kegalle, had submitted addresses in Gampaha without informing the relevant households. The story that one of them has gone abroad is incorrect. Our Party agent in Gampaha, who is also the Leader in Gampaha, is the person responsible and he has given a statement to the police in this regard," NSSP Leader, Dr. Karunaratne, added.
He also alleged that the United National Party (UNP) rebel, Shiral Lakthilake, was instigating a shockingly, brutal campaign against him by calling this issue a huge fraud, and even going to the extent of calling for his arrest. "The best they can do is to take the issue before a court of law as this is not a violation of the Election Law. The nominations were accepted and nothing can change this," he said.
When contacted, UNP rebel, Shiral Lakthilake, said "I was merely stating the legal implications of such a situation during a programme when a media institution questioned me. If this incident of fake documents being proffered is true, the fact remains that it can be implied and it certainly takes no feat of one's imagination to understand that the Election Law has been violated along with certain provisions of the Penal Code. My comments were not directed at Dr. Karunaratne, personally."
(Courtesy: Ceylon Today)
Latest Headlines in Sri Lanka