BANNED! NO FRONTING FOR LTTE
Posted by Editor on April 2, 2014 - 10:33 am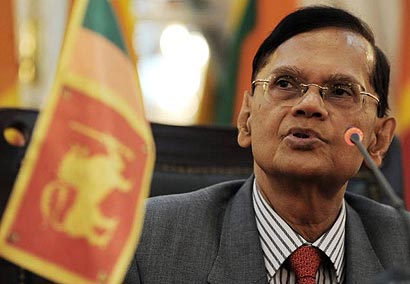 The government yesterday signed an order designating 16 organisations functioning as terrorist fronts on foreign soil and freezing all assets and economic resources of these entities. External Affairs Minister Prof. G.L. Peiris signed the proscription order on the recommendation of Defence and Urban Development Ministry Secretary Gotabhaya Rajapaksa.
The proscribed 16 organisations fall under four broad categories. Among the organisations proscribed are the Transnational Government of Tamil Eelam (TGTE) headed by New York lawyer Visuvanathan Ruthirakumaran, Global Tamil Forum headed by Catholic Priest Fr. S.J. Emmanuel, the LTTE group led by Perinbanayagam Sivaparan alias Nediyavan and the Tiger group led by Sekarampillai Vinayagamoorthy alias Vinayagam.
The order effectively forbids Sri Lankan nationals to maintain contact or links with members of the proscribed organisations.
This would prevent Sri Lankan political parties and leaders from obtaining funds from such entities for undertakings in Sri Lanka.
This move is likely to affect several members of Tamil political parties in Sri Lanka.
It would also forbid Sri Lankan politicians and Non-Governmental Organisation (NGO) activists being in contact with representatives of such entities either in Sri Lanka or during trips abroad.
A media release issued by the External Affairs Ministry yesterday stated: "An order, designating persons and entities in terms of the United Nations Security Council Resolution 1373 which sets out strategies to combat terrorism and to control terrorist financing has been signed by Prof. G.L. Peiris, Minister of External Affairs, and will be published in the Government Gazette shortly.
"This order is based on the recommendation by the Secretary, Ministry of Defence and Urban Development, as the Competent Authority regarding the identification of persons, groups and entities, believed on reasonable grounds to be committing, attempting to commit, facilitating or participating, in the commission of acts of terrorism.
"The substantial effect of an order under this Regulation is that all funds, assets and economic resources belonging to or owned by the designated persons or entities remain frozen until they are removed from the designated list. Moving, transferring or dealing with frozen assets without the permission of the Competent Authority is prohibited. In terms of the Regulation, any person who fails to comply with an order to freeze assets is liable to heavy penalties."
The government banned the organisations as "foreign terrorists" utilising the UN Security Council Resolution 1373 which was brought about by the USA on September 28, 2001 after the attack on World Trader Center in New York on September 11, 2001.
The External Affairs Ministry has gazetted legislation outlawing several organisations reportedly functioning in several countries including the USA, Canada Britain, Norway, Italy, Switzerland, France and Australia.
The proscribed organisations are: Liberation Tigers of Tamil Eelam (LTTE) a.k.a Tamil Tigers, Tamil Rehabilitation Organization (TRO) , Tamil Coordinating Committee (TCC) , British Tamil Forum (BTF), World Tamil Movement (WTM) , Canadian Tamil Congress (CTC), Australian Tamil Congress (ATC), Global Tamil Forum (GTF), National Council Of Canadian Tamils (NCCT) a.k.a Makkal Avai, Tamil National Council (TNC), Tamil Youth Organization (TYO), World Tamil Coordinating Committee (WTCC), Transnational Government Of Tamil Eelam (TGTE), Tamil Eelam Peoples Assembly (TEPA) , World Tamil Relief Fund (WTRF) and Headquarters Group (HQ Group) .
According to authoritative sources the organisations listed as suspected terrorist entities functioning on foreign soil fall under four broad categories reportedly under the overall control of four key individuals.
(Daily News)
Latest Headlines in Sri Lanka