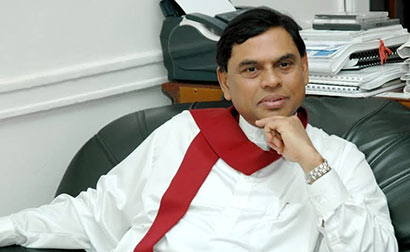 Former Economic Development Minister and National Organizer of the Sri Lanka Freedom Party Basil Rajapaksa has left for Dubai early this morning.
Rajapaksa had arrived at the Bandaranaike International Airport at around 2 am this morning and had boarded the flight EK 349  at 2.45 am.
The former Minister's wife Pushpa Rajapaksa has also left the country with him.
Basil Rajapaksa, who is the younger brother of President Mahinda Rajapaksa, was instrumental in devising large scale development projects in the country over the past 10 years. He has also come under severe criticism from many sections of the opposition over alleged bribery and corruption.
He is known to be a green card holder of the United States of America.
SLFP central committee scheduled to meet this evening at party headquarters in Colombo 10 under party leader Mahinda Rajapaksa's patronage.
(Asian Mirror)