President Maithripala to visit India first
Posted by Editor on January 11, 2015 - 8:59 am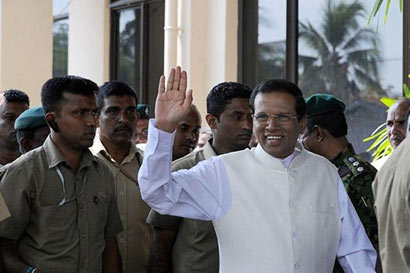 President Maithripala Sirisena will travel to New Delhi next month on his first State visit abroad.
Prime Minister Narendra Modi invited Mr. Sirisena when he called to congratulate the latter on his election victory on Friday, a political aide of the newly elected President said. Sri Lanka also plans to release "soon" 15 Indian fishermen in its custody, said Rajitha Senaratne, who is tipped to be an important member of the Sirisena Cabinet.
Sri Lanka's relations with India are set to improve because the new government recognised the importance of having India on its side, Mr. Senaratne said at a press conference here Saturday.
He also drew parallels between the modest backgrounds of Mr. Sirisena and Mr. Modi to emphasise the point that the new government was giving top priority to its relations with India. "Mr. Modi invited our President to come to India first. Mr. Sirisena told him it would be difficult this month, and that he will go next month," Mr. Senaratne said.
While Sri Lanka would free 15 Indian fishermen, the new government would need to take a policy decision on returning trawlers, he said.
(The Hindu)
Latest Headlines in Sri Lanka