BCCI fears Modi role in Sri Lankan Premier League
Posted by Editor on June 20, 2011 - 7:53 am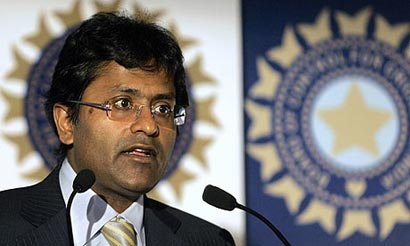 The spectre of Lalit Modi continues to haunt the Indian cricket board. According to top sources, BCCI has refused to let Indian cricketers play in the upcoming Sri Lankan Premier League because it suspects that the former IPL czar is behind the new T20 league.
BCCI believes that the Singapore-based company, Somerset Entertainment Ventures Pvt Ltd (SEV), which has the contract to conduct the tournament, has links with Modi.
"We have indications that Modi is behind the Lankan league. A lot of his men who worked in IPL are now involved in managing this league through SEV," a top BCCI official said.
BCCI sources told TOI on Sunday that Indian cricketers were earlier given the go-ahead because the Sri Lankan board had claimed it was their own event. But with the involvement of a private party which the BCCI thinks is guided by Modi, the situation is different, they said.
BCCI's move runs the risk of retaliation in kind by the Sri Lankan board, which may stop its players from playing in IPL. But such is the reaction to anything seen as connected with Modi that the board is willing to take that risk.
BCCI claims that while the Sri Lankan board was yet to approach it formally, some Indian players have already signed contracts. This, BCCI thinks, also suggests that a private body was involved in roping in players for SLCL.
Contacted by TOI, Modi denied any links with the new league. "Amazing. What will they come up with next? Imaginations do run wild in BCCI nowadays," he said.
"I really have no idea who is behind it. If there are people working in IPL and are working behind the scenes, then it must be with someone high up with BCCI's blessing. If I was to be behind a league, then it won't be just mere speculation. Everyone will know I'm behind it," Modi said.
The former IPL czar found it "amazing" that BCCI could demand that Lankan cricketers play in IPL while refusing to release its own players to the Lankan league. "This, when that country has gone out of its way to let its players play in the IPL at the cost of Lanka's tour to England. This should be a wake-up call for the rest of the world as to the true intentions of the current BCCI management. You can only bully so much then… someone will react."
Sri Lanka Cricket is reportedly hurt by BCCI's sudden move but is ready to explain the situation to the Indian board. "This tournament is approved by SLC. And Somerset is the marketing arm, having won the rights through a tender process. Nobody can say it is owned by Somerset," SLC secretary Nishantha Ranatunga said.
"We need to explain the matter to BCCI and whatever the concerns that they have, we need to give them an explanation. It is very important to have Indian players play in the event as they will add a lot of value and glamour to the tournament," Ranatunga added.
The SLPL will be played between July 19 and August 4 at the R Premadasa Stadium in Colombo. Several foreign players including Chris Gayle, Kieron Pollard, Shahid Afridi, Daniel Vettori, Kevin O'Brien and Herschelle Gibbs have already signed up.
The Indian players keen on playing in the league are Praveen Kumar, Munaf Patel, Irfan Pathan, Dinesh Karthik, R Ashwin, Ravindra Jadeja, Manoj Tiwary, Saurabh Tiwary, Umesh Yadav, Vinay Kumar, Manish Pandey and Paul Valthaty, Times of India reports.
Courtesy: Ada Derana
Latest Headlines in Sri Lanka