Attack on TNA Parliamentarians: Defence Secy orders probe, action against attackers
Posted by Editor on June 20, 2011 - 7:46 am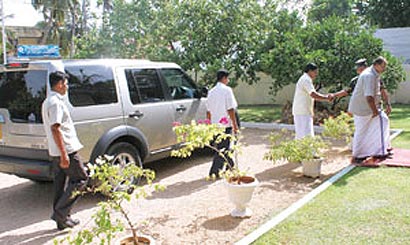 Led by MP Mavai Senadhiraja, TNA MPs arrive at Jaffna Civil Affairs Office on Saturday to meet Jaffna Commander Maj. Gen. Mahinda Hathurusinghe. In the background is one of the vehicles, which the TNA said was damaged by the army – Pix by The Island.
Defence Secretary Gotabhaya Rajapaksa directed Jaffna Army Commander Major General Mahinda Haturusinghe to inquire into an incident where a group of Tamil National Alliance (TNA) Parliamentarians was attacked while attending a meeting and to take into custody those who were involved and punish them.
The TNA Parliamentarians were allegedly attacked during a meeting with party supporters at Alaveili, Jaffna on June 16. Two separate investigations are being conducted into the incident by a special team comprising the Army and Police.
Those who were present at the meeting have said that the attackers had come in uniforms similar to those of the Army.
The Defence Secretary has instructed the authorities to take action against those found guilty, at a time when the Jaffna peninsula was witnessing massive development after the complete eradication of 30 years of conflict. A team of Army officials headed by Major General Janaka Walgama had gone to the venue of the meeting on the instructions of Major General Haturusinghe to find information regarding the incident.
Meanwhile, the Jaffna Army Commander has had a discussion with four TNA Parliamentarians about the attack. The discussion was held at the Jaffna Civil Protection and Public Relations Office. The TNA members included Mavai Senadhirajah, Premachandran, Suganderan and Sidaran.
The TNA members told Major General Haturusinghe that the people in Jaffna appreciated the Army's services.
Major General Haturusinghe pledged that speedy action would be taken against those responsible for the attack.
Courtesy: Daily News
Latest Headlines in Sri Lanka