BE READY TO STRIKE FOR RS. 8,000 PAY HIKE, LALKANTHA TELLS WORKERS
Posted by Editor on September 23, 2010 - 5:56 pm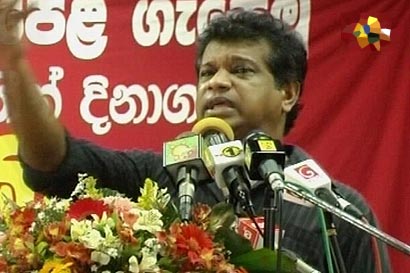 News Courtesy: News First
Workers should be given a Rs. 8,000 salary increment from the next budget, says the National Trade Union Center.
lalChairman of the National Trade Union Center K. D. Lalkantha made this statement while addressing a convention in the Anuradhapura area yesterday.
Anuradhapura convention series organized by the National Trade Union Center, in order to educate trade unions about increasing salaries, was held yesterday.
"Trade Unions all over the world demanded salary increments commensurate with the cost of living and not because someone said it somewhere. That is why we are asking for Rs. 8,000. We have the right to ask for it.
"They are aware that the working people of this country are engaged in a trade union action. But nothing will come out of it. The farmers will not receive anything and nor will the labourers. No one will. It is only by taking to the streets with a major campaign that we will be able to get anything.
"We will have to go for a strike. If not we will not get anything. So get ready for a major strike," said Lalkantha.
Latest Headlines in Sri Lanka