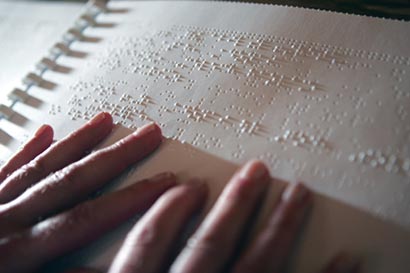 A Blind student, who sat for the 2011 GCE Ordinary Level examination last year, has scored 'A's in all subjects she had offered.
Ridmi Handapangoda, of Werellahena, is a student of the Thakshila College, Horana. She sat for the examination in the Braille system. Speaking to The Island she said that she was happy with her achievement and would continue her education to become a teacher someday. "I could read when I was a child. I lost my sight gradually due to an infection. Later, I studied the Braille system to read books."
She had continued her education with the help of the Braille system at the Thakshila College's primary section and passed the Grade Five scholarship in 2005 with 148 marks to move to the secondary section of the same college. "Though I lost my sight I continued to study with other
students in normal classes until the Ordinary Level. At the Ordinary Level I moved to special classes for blind students."
"My teachers helped me and my grandfather who was keen to assist me read books to me," she said. Once the grandfather reads to her she converts what she had heard into the Braille System and studies through that medium. "That was a great strength for me to score straight 'A' for all the nine subjects."
Ridmi is the only child in her family and the mother teaches at the Prajapati Girls School in Horana while the father is employed at a private firm.
Courtesy: The Island