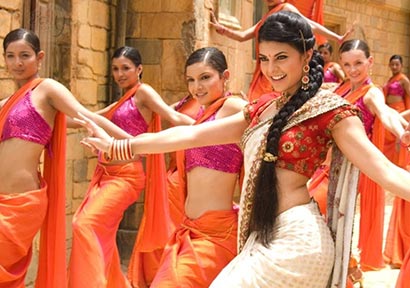 Many would believe that "Betrayal Is Survival", the tag line of Jacqueline Fernandez's "Race 2", truly reflects the cut-throat competition and survival mantra in the Hindi film industry, but the Sri Lankan-born actress says hard work and honesty can do wonders.
"It is a very competitive industry. They say that if you want to survive here, you have to be cut-throat. But I don't see a need for that. Sometimes I feel that hard work works. If you want to sleep well at night it is better if you just be an honest person," Jacqueline told IANS in an interview.
Personally, she feels it is better to forgive and forget than hold a grudge against anyone.
"I think betrayal is a part and parcel of life and I think we all have experienced it. But I am someone who doesn't believe in holding grudges. I am someone who forgives and forgets. I think it is important," she said.
Born to a Sri Lankan father and Malaysian mother, Jacqueline was raised in Bahrain, and at the age of 14 was hosting a fitness show. She moved to Australia for her college studies, and then returned to Sri Lanka, where she took up a reporting job.
The year 2006 turned to be a game-changer for her as she entered the Miss Sri Lanka beauty pageant, and won the crown. That set the stage for the Miss Universe contest at Los Angeles for her. She didn't make it to the finals, but her visibility drew in advise that she must try her luck in Bollywood.
It worked.
She made her debut in the Hindi film industry with 2009 film "Aladin" opposite Riteish Deshmukh. Though it didn't click at the box-office, the film landed her roles in "Housefull 2", "Murder 2" and now "Race 2".
Creating a place for herself was not easy, says Jacqueline.
"It is a little bit difficult when you have come from outside. I feel that the industry embraces people who are from the industry faster and with wider arms. But once you have proved yourself, it is easier for them to accept you," she said.
"I remember when 'Aladin' didn't do well, I felt a little bit shunned, because it is so difficult to get a second chance specially if you are not from the group. You put in twice the effort and start again," she added.
Even though the 27-year-old actress has managed to create an identity, she is still wary of making friends in the industry.
"I think at the end of the day, these are all people you have to work with. Sometimes it is difficult because you don't want to cross that line between professionalism and friendship. Getting along with co-stars is important, but when it comes to having real friends I don't go looking for them in the film industry," she said.
With two successful films "Murder 2" and "Housefull 2" in her kitty, Jacqueline views the achievement as an add on responsibility.
"It (success) just gives you more responsibility. I guess it makes you work harder. It doesn't change you as a person; it changes the surrounding and scenario and gives a lot more responsibility," she said.
Directed by Abbas-Mustan, "Race 2" also stars Anil Kapoor, Saif Ali Khan, John Abraham, Deepika Padukone and Ameesha Patel. It releases Jan 25, 2013.
IANS