Bond scam suspect list out soon – Minister Lakshman Yapa
Posted by Editor on November 28, 2018 - 8:49 am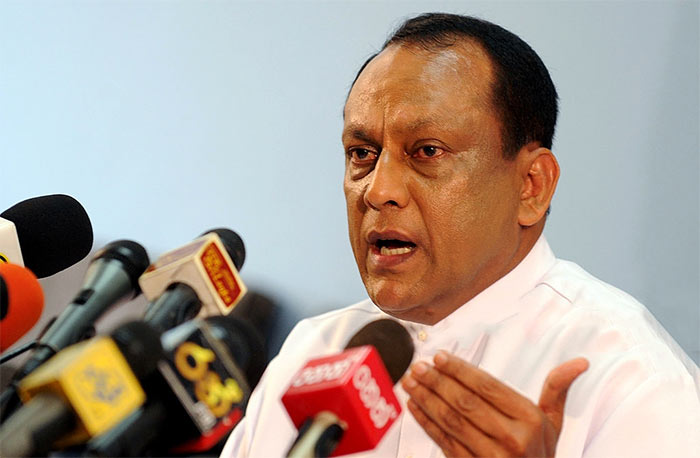 Minister Lakshman Yapa Abeywardena said the government was in the process of releasing a list of names of individuals of officials and politicians who have been implicated in the Bond scam.
"Once this list comes out next week, many of these politicians who are crying foul over the Constitution will have to eat humble pie because of their connection to the Bond Scam," he said. "It's only a matter of time before this list is out in public," he told a news conference at the SLPP party headquarters that SLPP members may continue to boycott parliamentary sittings due to legality of the proceedings, as there is a case before courts.
"Since there is a case before Supreme Courts and Parliament was dissolved through a directive issued by the President, a question arises regarding the legality of the sittings," he said. "One also wonders if the decisions taken by Parliament are legally binding."
He added that the party stance was to forge ahead for the elections rather than to drag the process by way of these parliamentary proceedings.
MP Anura Priyadarshana Yapa said the public was aware of the fissures within the UNP because it was obvious that the party was having an internal crisis.
"Harin Fernando told the media that a young person should be given the opportunity to lead the party or hold a leadership position, to which Ranil Wickremasinghe replied stating that it would only happen in 2020. On the other hand there are members like Navin Dissanayake, Thalatha Athukorale and Sujeewa Senasinghe cheering on for Sajith Premadasa to be appointed to lead the UNP," he said. "How can members of the UNP speak of the country's democracy when there isn't a semblance of democracy within their own party?"
MP Abeywardena said that there had been an issue pertaining to the pension rights of Samurdhi officers. "It was at this point that former Minister Basil Rajapaksa proposed the setting up of the Divi Neguma Fund, however the government changed and the Yahapalana regime took no notice of the concerns of these Samurdhi workers," he said.
"Within the first few weeks of this new government assuming office, we are thankful to Wimal Weerawansa for paving way for these workers to receive their rightful welfare benefits and monies," he said.
He added that an event is to be held at the Sugathadasa Stadium where nearly 4,000 such workers will receive confirmation of their contracts, while the others who have vacated their positions will receive their gratuity and other benefits which they were denied off for the last three years."
The MPs also denied that police informant Namal Kumara and Amith Weerasinghe would be given nominations from the SLPP. "The SLPP will not give nominations to individuals with such tainted reputations. It is clear that both individuals do not have the integrity or repute to be members of the SLPP. The SLPP will not give out memberships like handouts to individuals who have been embroiled in court cases, conspiracies and crimes."
(Source: Daily News)
Latest Headlines in Sri Lanka