Buddhist awakening in country, says PM
Posted by Editor on May 10, 2011 - 8:57 am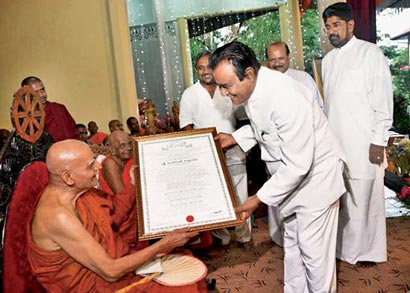 'There has been a great Buddhist awakening in the country as never seen before. President Mahinda Rajapaksa's leadership too has contributed towards creating this new thinking among society, said Prime Minister D M Jayaratne.
He was speaking at the inaugural ceremony of the Sri Sambuddhatva Jayanthi Maha Tripitaka Sajjayana at the Sri Subodharama International Buddhist Centre, Peradeniya on Sunday. The Prime Minister said all arrangements have now being finalized to conduct the 2600th Sri Sambuddhatva Jayanthi in a manner that will be etched in people's hearts forever.
Prime Minister Jayaratne said the link between the temple and village has been enhanced to a very great extent mostly due to the increased dhamma education and the impetus given to Buddhism and culture by the President.
The Prime Minister said the leadership given by the President had enabled him to visit temples throughout the country and personally look into their problems.
He said people should try to gather the meaning of the 2600th Sri Sambuddhatva Jayanthi and take the opportunity to send a message of goodwill to the whole world to overcome international challenges facing the country.
The Most Ven Theripehe Somananda Mahanayake thera who presided conferred the Hela Bodu Janaranjana Kirthi Sri Vagishwara honorary title on Prime Minister D M Jayaratne at this ceremony.
The prelate said this honour was bestowed on the Prime Minister in recognition of the services rendered by him to create a Buddhist reawakening in the country.
The Most Ven Agga Maha Panditha Aluthgama Dhammananda Nayake Thera, Mass Media and Information Minister Keheliya Rambukwella, and Central Province Chief Minister Sarath Ekanayake were also present.
Courtesy: Daily News
Latest Headlines in Sri Lanka