Budget proposals more export oriented – Minister
Posted by Editor on November 26, 2015 - 7:49 am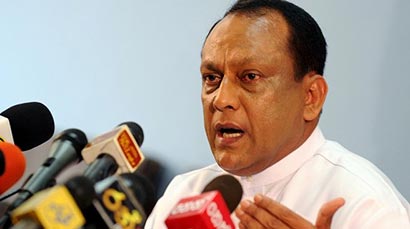 State Finance Minister Lakshman Yapa Abeywardena highlighting several aspects of the new budget proposals said it will help to create a social and export oriented economy in the country.
He made these remarks at a well attended business forum, organized by the National Chamber of Exporters in Sri Lanka (NCE). NCE Secretary General and CEO Shiham Marikar presided.
Principal, KPMG, Tax and Regulatory Suresh Perera made a presentation on "2016- Budget Analysis and also key issues of the budget proposals.
Minister Abeywardena said the country is focusing on long term strategic and structural development challenges and the budget proposals will immensely help to elevate the country to an upper middle-income level country.
He said Sri Lankan export business is one of the key concerns of the Government and the objective of the Budget proposals is to provide a solid foundation to make this a success.
Minister Abeywardena also focused attention towards Foreign Direct Investments (FDI) and said the country also depends largely on fostering private sector development and private investment.
"Our country's economy depends on FDI and the import of FDI is further underlined by the country's limited domestic savings rate,".
"When comparing to most economies in South Asia our country does not have a demographic dividend and this will result over 22 per cent of the population in our country will be over 60 by 2036 and there will be 61 dependents per 100 adults".
Minister Abeywardena said the Government has introduced necessary policy reforms to promote the export sector and allowing rupee to devaluate is one of such radical policy decisions.
Mentioning about the Megalopolis in the Western Province, the Minister said there will be 15 economic zones in the country and the Government's prime objective is to strengthen the export market which will also help to create massive employment projects.
He said earlier Russia and Middle Eastern countries purchased 65 percent tea from Sri Lanka and now the country has also to look for new markets for tea and it is the duty of local exporters to fulfill this obligation.
He said it is also happy to see in recent years the country's economic growth has been fastest in South Asia.
"However, for most of the past decade the country's growth has been pro-poor with consumption per capita of the bottom 40 per cent growing at 3.3 per cent a year, compared to 2.8 per cent for the total population. Other human development indicators are also impressive by regional and lower middle income standards,"
The minister said it is important to adopt measures to improve productivity and competitiveness of products while addressing other demand and supply side constraints to face challenges in the international market in order to sustain the growth momentum witnessed so far and achieve the national export targets in future.
(Source: Daily News – By Ananda Kannangara)
Latest Headlines in Sri Lanka