Bus owners get fare hike, call off strike
Posted by Editor on May 17, 2018 - 5:42 am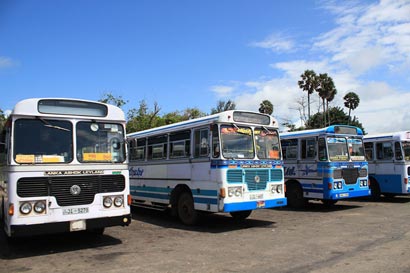 The All Ceylon Private Bus Association yesterday announced that it had called off the bus strike which was scheduled to commence today as the Transport Ministry had agreed to a 12.5 percent bus fare increase and a minimum fare of Rs.12. The bus operators demanded a 15 percent increase and a Rs.15 minimum fare.
Earlier in the day, Cabinet Spokesman and Health Minister Rajitha Senaratne said that 1,500 state-run buses were ready to face any emergency situation that would have arisen.
Addressing the weekly Cabinet Press Briefing at the Information Department, Senaratne pointed out that the government could not go on acceding to all demands that some trade unions made, at the expense of the people. Pointing out that the fuel pricing formula had by practice been revised every June, Senaratne said that Samurdhi beneficiaries and fisherman had been given relief despite last week's hike in the prices of petrol, diesel and kerosene. "All though the price of a litre of kerosene was increased to Rs.106, Samurdhi recipients and fisherman operating mechanised boats, can obtain supplies at the old rate of Rs.44."
The Minister said the Ceylon Petroleum Corporation had been compelled to jack up the price of kerosene since it had suffered huge losses as a result of motorists taking advantage of the low price of kerosene to use it as fuel for their vehicles, after mixing it with petrol or diesel.
All-Island Private Bus Owners' Federation (AIPBOF,) Secretary Anjana Priyanjith met Deputy Minister of Transport Ashok Abeysinghe and Lasantha Alagiyawanna, Deputy Minister of Finance and Mass Media yesterday evening to iron out their differences. Earlier Representatives of other private bus owners associations met Abeysinghe and reached an agreement.
"Representatives private bus owners associations held discussions with the two of us and they agreed to call off the strike. We agreed on a bus fare. Also the bus owners agreed to assist the government to implement some of the programs we have developed to enhance the bus service. Since we have to obtain the approval of the Cabinet, we will present a proposal to the cabinet on May 22. Unions have agreed to call off their strike till next week," Alagiyawanna said.
The Deputy Minister added that Sri Lanka has a surplus of buses and that if the buses operate according to a time table, issues faced by the commuters can be solved.
On Tuesday Cabinet of Ministers approved a proposal to increase the bus fares by 6.56% while keeping the minimum fare at Rs 10. All-Island Private Bus Owners' Federation (AIPBOF,) Lanka Private Bus Owners Association (LPBOA)and Inter-Provincial Bus Owners' Association (IPBOA) threatened to launch a strike from midnight yesterday, expressing their displeasure of the move.
Earlier the Inter-Provincial Private Bus Owners' Association demanded a 20% increase in bus fares while the Lanka Private Bus Owners' Association had called for a 10% increase.
(Source: The Island – By Zacki Jabbar and Rathindra Kuruwita)
Latest Headlines in Sri Lanka