Cabinet will stand by PM on Central Bank bond issue
Posted by Editor on November 3, 2016 - 7:13 am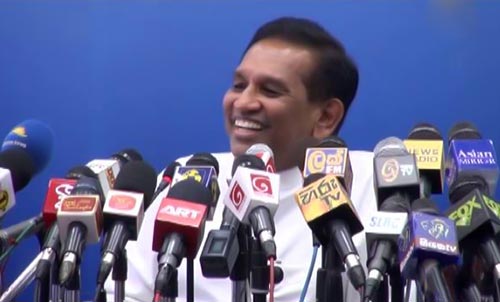 Cabinet this week took the unanimous decision to stand by Prime Minister Ranil Wickremesinghe against allegations that he too was involved in the Central Bank bond scam, said Co-cabinet spokesperson Minister Rajitha Senaratne.
"The COPE report did not hold the Prime Minister responsible for the bond scam," Minister Senaratne said. Its Chairman Sunil Handunnetti clearly stated that if they had conducted the auction as the Prime Minister had instructed, this problem would not have arisen," explained Minister Senaratne.
The minister was addressing the weekly Cabinet briefing at the Government Information Department yesterday. He added that the Prime Minister under whose ministry the Central Bank functions, had given clear instructions to the Public Finance Department and Attorney General's (AG) Department to conduct an independent investigation into the scam.
Answering questions on allegations that were levelled through the initial COPE report prepared by DEW Gunasekara, Senaratne insisted that, the earlier report too did not find the PM accountable for the bond scam.
"We will investigate this. This is the difference between the earlier bond scams and this. We are also conducting investigating into the Hedging deal, Greek Bond scam which cost Rs 30 billion and the case of RADA."
"Investigations into RADA are now complete," the minister said.
He also explained that former Central Bank Governor Arjuna Mahendran was appointed because of the credibility of his father Charlie Mahendran who was a diplomat and long-term UNP supporter but that would not stop the government from continuing with investigations.
The Joint Opposition this week filed a complaint at the Bribery Commission against Prime Minister Wickremesinghe and Mahendran over the Central Bank bond scam. They claimed that the PM too was linked to the scam and he too should be investigated.
(Source: Daily News – By Zahrah Imtiaz)
Latest Headlines in Sri Lanka