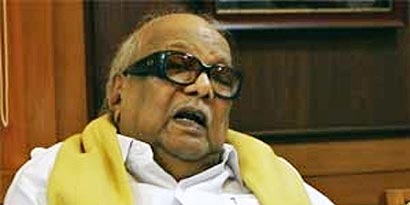 DMK president M. Karunanidhi on Tuesday said Tamils across the world expected India to demand a fair inquiry into the human rights violations and war crimes in Sri Lanka, as demanded by the U.K. Prime Minister, David Cameron, but it had failed to show any concern for the Tamils.
"Mr. Cameron has secured a permanent place in the hearts of Tamils in Sri Lanka, Tamils living in other countries and Tamils in Tamil Nadu," he said.
In a statement here, he said if Prime Minister Manmohan Singh decided to stay away from the Commonwealth Heads of Government Meeting (CHOGM) in deference to the sentiments of the Tamils, he could have explained the real reason behind his boycott in a letter to Sri Lankan President Mahinda Rajapaksa.
"He should have raised the issue of atrocities against the Tamils and demanded a fair inquiry so that the world will know the truth. But he belied the expectations of Tamils and deputed External Affairs Minister Salman Khurshid to take part in the meeting," he said.
"The Indian Prime Minister also could have won the Tamils' appreciation if Mr. Khurshid had announced that India would completely boycott to highlight the atrocities against the Tamils, the human rights violations and war crimes," he said.
Recalling China's Foreign Ministry spokesperson Qin Gang's remarks that the international community should offer constructive help to countries to improve their human rights through their efforts,
Mr. Karunanidhi said when even a country like China, which had been helping Sri Lanka in a big way, expressed his concern over human rights, the Indian Foreign Minister preferred to remain silent.
(Source: The Hindu)