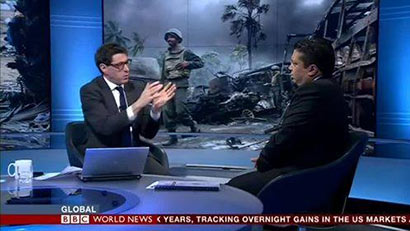 British Prime Minister David Cameron may have highlighted alleged human rights issues in Sri Lanka because he had domestic collateral political considerations with an anticipated election in 2015, Sri Lanka's High Commissioner to Britain Dr. Chris Nonis said in an interview with the BBC on Thursday.
"The point is people are entitled to say whatever they wish. But the Commonwealth Heads of Government Meeting (CHOGM), a gathering of 53 or 54 countries, the purpose was to discuss the theme of the Commonwealth. It was not there to raise bilateral issues. On the one hand I think it is good that David Cameron came despite a lot of criticism domestically".
"But at the same time I understand why he raised those issues on a public platform because he has domestic collateral political considerations. He is in a coalition government with an election due in 2015. There is a significant diaspora in Britain and naturally (interviewer interrupts). Dr Nonis continues: I am afraid that this is the natural conclusion one would come to if one realizes that he has an election coming up in 2015".
When questioned whether Sri Lanka had initiated a Census on Dead and Missing during war which started on Thursday due to pressure exerted in some quarters during the CHOGM, Dr.Nonis pointed out that the Census was part
of the recommendations of the Lessons Learnt and Reconciliation Commission (LLRC) which released its report in 2011. "The detractors would like to say that. But the LLRC report was released in 2011. This census is one of its recommendations" Dr. Nonis pointed out.
About the LLRC recommendations Dr.Nonis said "before it (the report) was released many people were critical of it. But once it was released, people realized, it was very comprehensive and impartial, holistic and even critical of government. The President, not only released it, but released it in full", he added.
When questioned whether people would have faith in a survey carried out by the Government Dr.Nonis replied "I think they have tremendous faith in it. It is independent, it is carried out by the Department of Census and Statistics. Even the last report which was carried out, the enumeration of vital events in 2011 in the North was done by the Department of Census and Statistics. The people they used or the enumerators actually were predominantly Tamil Teachers. They were entirely independent". Describing further Dr.Nonis pointed out "The conflict was not between government and Tamil Tigers. The conflict was between Tamils, Sinhalese, Muslims, Burgher, Malay people of Sri Lanka and the terrorists. This is often misunderstood".
(Courtesy: Daily News)