Captains and leaders
Posted by Editor on February 8, 2012 - 7:40 am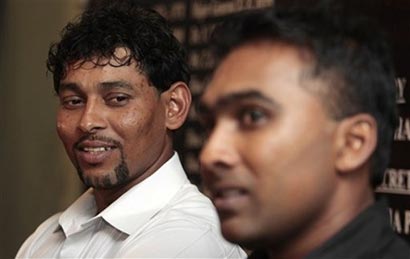 "In the mid-90s, playing for SSC, when the opposition was putting up a partnership, fielding from short midwicket I used to ponder a means to break that stand. A couple of deliveries later I would have a fair idea which bowler to use and what field to set to take that wicket. As I made up my mind, I found Mahela Jayawardene sprinting to me and saying; why don't you try this to get the breakthrough? It just happened to be the same thing I had been thinking. At that point, I had played over 75 Tests, won a World Cup and done it all. But here was an 18-year-old, just out of school, whose thinking was in the same capacity as that of a veteran Test cricketer." – Arjuna Ranatunga
Ranatunga wasn't alone in praising Mahela. There were lots of others who were excited by Mahela Jayawardene's captaincy skills. He was appointed vice-captain of the national team a month after his 22nd birthday, ahead of several other seniors such as Marvan Atapattu, Muttiah Muralitharan and Chaminda Vaas. Eventually, when he was appointed captain in 2006, he took Sri Lanka to new heights.
Following Sri Lanka's recent poor run, where they lost eight series on the trot (four in Tests and four in ODIs) Jayawardene has been the 'go to man' and he will today begin his second innings as Si Lanka captain.
Jayawardene's first stint as Sri Lanka's captain was a huge success as he was both aggressive and imaginative and backed a host of young players.
As a result, there were rare Test wins at Trent Bridge and at the Basin Reserve. The national team whitewashed England 5-0 in England and as captain, Mahela led from the front. During the 2006 tour of England, he set the tone with an impressive hundred at Lord's, which helped Sri Lanka save the first Test, which they were doomed to lose within three days.
Rise to eminence
Glory days continued, as Mahela established a World Record 624 run stand with Kumar Sangakkara at the SSC on his way to a career best 374. A thrilling hundred in the second Test at the P. Sara Oval helped Sri Lanka win the series and Mahela had replaced Sanath Jayasuriya as the country's premier batsman.
Mahela's stocks as one of the world's leading cricket captains rose steadily later that year in New Zealand. He backed Chamara Silva after the batsman had collected a pair in Christchurch on Test debut and in the next Test, Silva smashed a stunning 151 and helped Sri Lanka win the second Test and square the series.
Jayawardena strongly resisted moves to unleash Ajantha Mendis in the hostile conditions of Australia, but timed his entry to perfection by introducing the mystery spinner, just before the Asia Cup. Mendis created havoc, claiming six wickets in the Asia Cup final. The Indians were so mentally doomed that they gave away a world record 26 wickets to Mendis in the Test series that followed. For once, Muralitharan had become an also ran. One of the main reasons for Mendis' early success was Mahela's clever use of the Umpire Decision Review System that the ICC had introduced for the first time.
The ICC confirmed Mahela's position as one of the world's leading captains when they named him the ICC Captain of the Year at the annual awards. 'The sky is the Limit for Mahela': 'The Island' rejoiced with the country's cricket supporters.
But then came the IPL …
As captain of Sri Lanka, although he failed to win the World Cup, Jayawardene had been as good as Arjuna. But the area where the latter had the edge was that he was a leader of men apart from being a very good captain and like Imran Khan of Pakistan, he was able to change the cricket destiny of Sri Lanka.
Had Arjuna not taken on the Aussies in 1999, risking his own career, Muttiah Muralitharan would have been history.
Then in 1998, in England, when a young player on tour was caught stealing a mobile phone and when senior players, including the respected Aravinda de Silva lobbied to have the youngster sent home immediately, Ranatunga staunchly resisted the call together with team manager Ranjit Fernando, as they sensed the young player could harm his life, following the embarrassment. Instead, he endorsed a hefty fine on the player and at the end of the tour told him in no uncertain terms that he had gone on his last tour as a Sri Lankan cricketer. And he ensured the young spinner never played for Sri Lanka, as long as he was captain. Only strong leaders can disagree with their own mates and then go on to make unpopular decisions.
Like Arjuna, Mahela, too, had his opportunities to rise up to the occasion and show the way, during a crucial juncture of Sri Lankan cricket history. But he failed miserably, becoming a prisoner at the hands of senior players and that player agent known for crooked deals – Charlie Austin.
Putting IPL before country
The decision by Sri Lanka's cricketers to skip a Test tour of England and instead play in the IPL was a landmark decision in the history of Sri Lankan cricket. It showed where the players' priorities lay and politicians instead of the cricket board was calling the shots on vital cricket matters. Mahela, as the leader, failed pathetically to show the team the direction and went on to ridicule then board Chairman, who was none other than Arjuna Ranatunga.
Lured by the IPL riches, Mahela was intent on playing as little international cricket as possible. They pleaded with politicians and cricketers became activists. Mahela had his way as politicians freed him to play in the IPL. The same politicians cleverly made good use of the rift between the players and the board. They sacked the board and went on to sign television deals with blacklisted companies, dragging SLC into disaster as the company defaulted payments worth millions of US$.
In a bid to have things his way, Mahela joined forces with that bankrupt outfit called the Sri Lanka Cricketers' Association, run by average ex-cricketers, who seized on the crisis and got themselves appointed as Members of Cricket Interim Committee. Thus began the infamous journeys of the likes of Nishantha Ranatunga and Pramodaya Wickramasinghe as cricket administrators.
So irritated were Mahela and the crowd about Arjuna's insistence that international cricket take precedence over IPL that when they won the Asia Cup in Karachi, the team went on to snub Ranatunga, who was present at the venue representing Sri Lanka Cricket as its Chairman. Player agent Charlie Austin, whose conduct Ranatunga had questioned, was having the last laugh.
SLC bankruptcy: Players' role
There has been so much written and said about Sri Lanka's cricketers going unpaid since the World Cup, owing to the board's financial crisis. But one of the causes of the financial crisis has been the players themselves, for they, led by Mahela, once again, pleaded with politicians to raise their salaries significantly.
The Match Fee for Test Matches for each player was increased to USD 5,000 overnight from USD 3, 500 while the payment for ODIs was increased to USD 3,500 from USD 1,750!
Addressing a media briefing soon after taking over the captaincy, Mahela was asked about his role during the IPL saga. He defended his decisions by saying that there had been some "injustice caused to the players," but conveniently forgot that while seeking permission to play in the IPL he had told SLC in a letter, "my commitment to Sri Lanka cricket will always be the priority."
Ethical dilemma
Again, last year, together with Kumar Sangakkara and other senior players, he arrived in England late due to IPL commitments. He never adjusted to English conditions during the Test series, as he failed to score a half-century in six innings.
Four days before he was appointed captain, responding to a query by The Island, Jayawardene denied media reports that he had agreed to take over the captaincy at the end of the tour of South Africa.
"I've seen the articles and it's been there for the last six months and I know that. But those things are not under my control," Jayawardene said.
"I'll think about it and I need time. It's a big one. It's a big question. Not the easiest one. But I need time to think about that," he further said, when asked whether he would take over the captaincy if offered.
Sri Lanka Cricket, in less than an hour after confirming that T. M. Dilshan had stepped down as captain, issued a media release announcing Mahela's appointment as captain!
One of the main reasons for T. M. Dilshan's failure as captain was Mahela himself. He failed to make a half-century in Test series losses to Pakistan, England and South Africa under Dilshan. Having been one reason for the team's dismal performance, how could Mahela agree to take over from Dilshan?
After South Africa took a 3-0 lead in the ODIs, Mahela skipped the last two ODIs in Kimberley and Bloemfontein. It was said at that point that the team's leading batsman was rested as a precautionary measure as a series was coming up in Australia. Playing through pain is part of representing your country. Remember Rawalpindi 2000, when after Waqar Younis had caused multiple fractures to Arjuna Ranatunga's thumb?
The physio had declared that Arjuna's tour was over and yet he came out to bat with the team eight wickets down to seal a famous win against many odds with Waqar breathing fire. That is true leadership. When the going gets tough, they say, the tough get going!
Mahela Jayawardena surely has proved his captaincy skills, but he has a long way to go as a leader.
Courtesy: The Island
Latest Headlines in Sri Lanka