Carlo Fonseka insists GMOA not to strike because of him
Posted by Editor on July 10, 2017 - 7:26 pm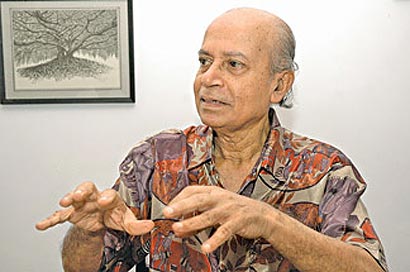 Professor Carlo Fonseka on Monday insisted the representatives of the Government Medical Officers' Association (GMOA) not to go ahead with the scheduled strike following the end of his term in office as the Chairman of the Sri Lanka Medical Council (SLMC).
Professor Fonseka informed this as he met the representatives, including GMOA President Dr. Anuruddha Padeniya in Colombo.
Professor Fonseka also went on to say if the GMOA intends to launch the proposed island-wide strike that is the 'end of relationship' between him and the association. "Holding strikes in a bid to win demands can be used as a weapon. Use that weapon wisely," Prof. Fonseka said.
He cited it as an 'extremely wicked' act, if an association holds strikes that would put the lives of people in danger. The Prof. also said he is of the view that he not physically fit, so he can no longer act as the Chairman of the SLMC.
However, as Dr. Padeniya clarified that the patients may lose their preliminary rights due to the prevailing situation in future, the Professor vowed to reconsider his decision.
Dr. Padeniya too pointed out they had to ultimately go ahead with the decision to hold the island-wide strike, however under his leadership, the GMOA resolved issues following discussions with the authorities, except the issues relating to the private medical college in Malabe.
(Ada Derana)
Latest Headlines in Sri Lanka