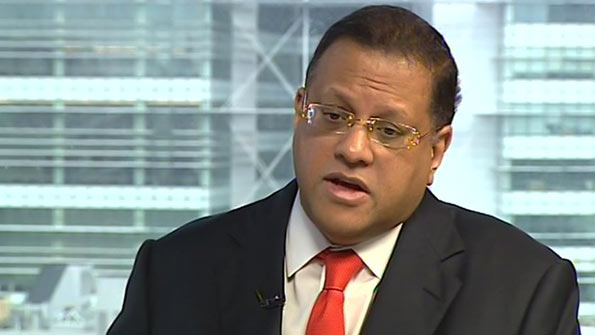 Tough-talking Central Bank Governor Arjuna Mahendran yesterday slammed Sri Lanka's tax system as "pathetic" and "regressive," insisting it needed to be boosted through fresh measures and called for reduced stress on State banks placed by loss making State Owned Enterprises (SOEs).
Delivering the inaugural address as the Chief Guest at the Association of Professional Bankers (APB) 27th Anniversary Convention, Mahendran engaged in a frank discussion of the country's economy, pointing out "Sri Lanka taxes its people like a sub-Saharan country".
"We have fallen into a trap of depending on foreign loans to fund our development. A lot of concrete has been poured into projects in Sri Lanka during the last few years on loans borrowed on high interest, which is fine if we can get good returns, but the numbers suggest otherwise. So clearly we have to innovate to get out of this situation and it's a pretty simple issue. Despite our high per capita income we tax our people like a sub-Saharan country. Currently tax revenue is around 10% and that is pretty pathetic, I don't mind saying in public."
"So the Government can't finance its debt, much less run the rest of Government functions, and that needs to change," he said.
Elaborating on the convention's theme of 'Innovate to Win,' the Governor continued with his forthright views, noting Sri Lanka's economy would "make it or break it" simply on the basis of whether it could tax its people on an equitable level.
"The poor are taxed more than the rich. That is the truth. A lot of taxes are indirect and this is where innovation is needed. You have to assist to resolve this issue as privileged members of society."
Mahendran added that the Central Bank had considered online payment methods for the public to encourage increased payments but acknowledged taxes need to be simplified, tax holidays reduced and the system made more transparent.
"Everyone has to get involved and rationalise this system," he stressed. "This is where we fall behind."
He also criticised State Owned Enterprises (SOE), which depend heavily on State banks to fund their functions on beneficial loan terms, which then makes the banks "inefficient and this spills over to the entire economy".
Touching on the latest Ease of Doing Business rankings published by the World Bank on Wednesday, Mahendran highlighted Sri Lanka's knotty contract dispute settlement mechanisms, which are time-consuming and complicated.
He insisted the arbitration system is sketchy, "outdated" and not time-bound to assist resolution of contract disputes. The Governor called on the banking sector to chip in on evolving more efficient systems to improve the country's investment climate.
(Source: DailyFT – By Uditha Jayasinghe)