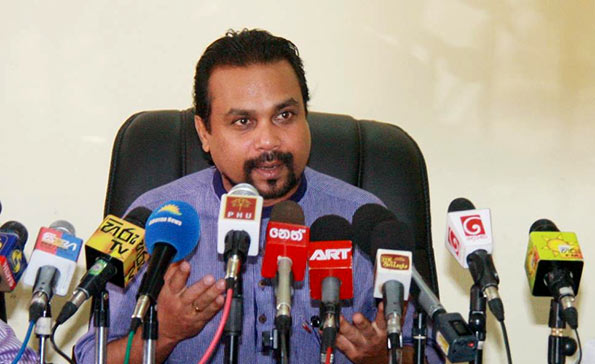 MP Wimal Weerawansa said that he will file a Fundamental Rights application against the CID for violating his human rights. He made this observation yesterday at a press conference held in Colombo.
The CID arrested Weerawansa on October 23 at the Bandaranaike International Airport (BIA) over an issue regarding his passport and was produced in the Negombo Magistrate's Court.The passport was granted on conditional release by the Negombo Magistrate and no travel restriction was imposed by the Magistrate on the MP.
The hearing was fixed for May 3, next year.
"I was not even given an opportunity to obtain the assistance of my lawyers to handle the case" Weerawansa claimed .
"The government is trying take revenge from people who oppose their activities.
"The Government is working to fulfill the aspirations of the TNA and Tamil Diaspora. They ignore the parliamentarians who speak for the betterment of the public," he said.
"Wimal Weerawansa was arrested by the CID without a valid reason MP Udaya Gammanpila said.
The Government is trying to arrest political leaders who oppose their opinions. Weerawansa did not violate the law, he said.
(Daily News)