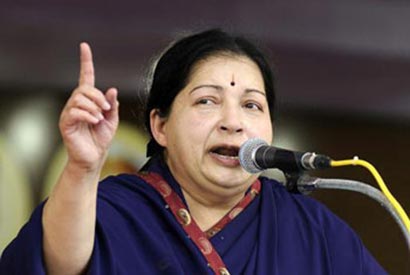 Launching a blistering attack on Congress chief Sonia Gandhi, AIADMK supreme and Chief Minister J Jayalalithaa said the root cause of the problems and hardships faced by Tamil Nadu fishermen was the ceding of Katchathivu to Sri Lanka by former prime minister Indira Gandhi through the accords signed in 1974 and 1976 when DMK chief M Karunanidhi was the Chief Minister.
Recalling that the Congress-led government, in its counter affidavit filed against her petition on retrieval of Katchatheevu, had declared that the islet was not part of India, Jayalalithaa asked, "Is this the concern shown by Congress government for Tamil Nadu fishermen? Is it not an act of betrayal? Sonia Gandhi is raising this issue now as if she does not know anything about it." The Chief Minister raised the questions at an election rally in Theradi, Tiruvotriyur.
Pointing out that she had been writing letters to the Prime Minister almost on a daily basis to take concrete steps to put an end to the woes of Tamil Nadu fishermen, Jayalalithaa said the Centre had failed to act on her requests.
Further, there was no response from the Centre for her request not to train Sri Lankan defence personnel in India since they had been torturing Tamil Nadu fishermen. Again, the Centre turned a blind eye to her demand of granting subsidy to the mechanised boats of fishermen. On the other hand, her government has been providing 50 per cent subsidy for the same, she pointed out.
"Why did the coalition government at the Centre fail to act on the decisions taken at the talks between the fishermen representatives of Tamil Nadu and Sri Lanka? Again, why did the Centre fail to make public the decisions taken at the talks held in 2011 despite requests from the Tamil Nadu government. Sonia Gandhi should explain this," Jayalalithaa said.
The CM addressed rallies at four places in North Chennai. Her campaign vehicle had to wade through a sea of people all the way. – ENS