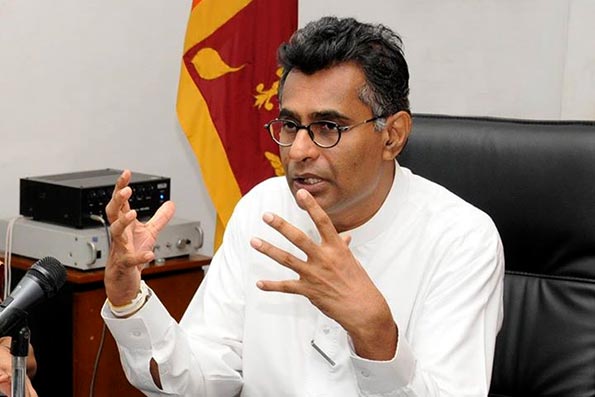 About 600 Metric Tonnes (MT) out of 700MT of garbage collected in Colombo on a daily basis can be recycled or reused provided the public supported such efforts, Megapolis and Western Development Minister Patali Champika Ranawaka said.
Minister Ranawaka, who has been tasked by President Maithripala Sirisena to resolve Colombo's garbage woes, told the Sunday Times that since taking over the task of garbage disposal within the Colombo Municipal Council (CMC) limits, they have been able to recycle or reuse 400MT out of 700MT of garbage collected daily. He said authorities were making compost out of some of the garbage while the rest was being recycled. "Even out of the 300MT that remain, we can still recycle about 200MT. It is only about 100MT that can't be used for anything."
The minister though said, efforts to recycle or reuse garbage cannot succeed if the public did not extend their support. "People need to take responsibility to manage their own garbage," he insisted.
He said the garbage started piling up in the city limits due to two reasons. The first was the collapse of the Meethotamulla garbage dump. The second was people who weren't segregating their garbage were dumping them in parts of Colombo as workers were refusing to collect unsegregated garbage.
Currently, low income families were not very supportive of efforts to segregate garbage, but this was mainly because they had nowhere to keep garbage piles until workers came to collect it, the minister admitted. Meanwhile, on the other end of the social ladder, those using vehicles who were commuting to Colombo were bringing piles of garbage from home and dumping them in the city, he alleged. "We have instructed the Environment Police to arrest individuals who dump unsegregated garbage."
He claimed 3000MT of garbage which had collected throughout the city was successfully removed after the President gave him the necessary powers to look into the problem.
The efforts were a success as garbage collection was made more streamlined and efficient, he explained.
"In the past, food waste was only collected once a week. We have now started collecting them thrice a week. We are collecting bio-degradable or recyclable plastic, polythene and paper on one day and non-bio-degradable sanitary items such as pampers and sanitary pads on another day," he revealed. While such non-biodegradable items had been dumped together with biodegradable items in the past, they are now being burned.
According to the minister the Environment Police have been instructed to notify the people regarding what waste will be collected on which days and when the garbage trucks will come. Civil Defence Committees have been reactivated to check whether garbage collection is being carried out to plan. The army's units tasked with urban beautification are supposed to inspect the city between 4 a.m.-6.30 a.m. and 4 p.m.-6.30 p.m. each day to see if garbage had been piled up in any part of Colombo. They are supposed to notify the relevant contractor tasked with garbage removal if they find such piles.
"If the piles, about which had been notified in the morning are still there when the second inspection is carried out in the evening, we impose a fine of Rs.100, 000 on the contractor," the minister said. The contractor must provide photographs to prove that the garbage piles have been removed. Officials meet at the CMC building at 7 p.m. each day for a progress review meeting where any shortcomings will be addressed, Minister Ranawaka said.
By following through on these plans, authorities have been able to clear 256 locations in the city where garbage mounds had collected, he said.
The city garbage is now being taken to a temporary waste disposal center at Kerawalapitiya, he said adding that the site is still being developed and will be fully utilised by the end of this month.
Officials were also working on long-term solutions to the garbage issue. Accordingly, on August 10, President Sirisena will inaugurate three separate "waste to energy" projects – two in Colombo and one in Gampaha. Work on these three private sector plants are due to be completed in 2019, the minister said.
Meanwhile, the Government is also hoping to commence construction of a Municipal Solid Waste (MSW) disposal facility at Aruwakkalu this year. Commonly known as the Aruwakkalu Sanitary Landfill project, currently an Environmental Impact Assessment (EIA) is being carried out regarding the site. The report is due later this month.
"We will first start by taking all the garbage from Puttalam to this site, which was once a limestone quarry. Thereafter, garbage from Colombo will be taken to a transfer station site in Kelaniya, where it will be compacted before being transported by rail to Aruwakkalu."
If all goes well, the minister said not just Colombo's garbage, but the garbage of the entire country can be taken to this site for a period of 80 to 100 years.
(Source: The Sunday Times – By Sandun Jayawardana)