Change of results percentage after re-correction insignificant: Minister
Posted by Editor on January 10, 2012 - 7:40 am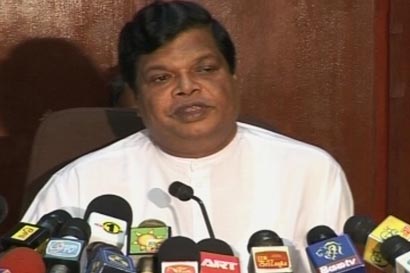 The percentage of change of results after re-correction of answer scripts   of the G.C.E. Advanced Level Examination conducted in 2010 had been as low as 1.5 per cent in 2010, a slight increase from 1.1 per cent reported the previous year, Minister Bandula Gunawardane said yesterday.
In 2010, 62,268 candidates applied for re-correction, and only 989 of them had their results changed after the process. According to the Minister, 89,503 candidates applied for re-correction in 2009, and 1,026 of them got changed results later.
However, the results change accounted for seven per cent of candidates after re-correction of their answer scripts in 2008, 7.1 per cent in 2007, 2.5 per cent in 2006 and 4.0 per cent in 2005.
The Minister said the number of candidates who applied this time could be finalised only after the deadline on January 17.
"The number of candidates who applied for re-correction had varied from 34,000 to 90,000 during the last five years. We do not know how many will apply this time," Mr. Gunawardane said.
However, it is anticipated by the public that the number can be higher this time given the discrepancies in the calculation of the Z-score rankings of candidates who sat the examination in August 2011.
Courtesy: DM Online
Latest Headlines in Sri Lanka