Chennai Super Kings, Rajasthan Royals be suspended from IPL: Supreme Court to BCCI
Posted by Editor on March 27, 2014 - 2:00 pm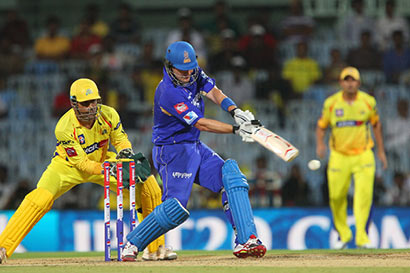 Mumbai: Hearing the IPL spot-fixing matter today, the Supreme Court has told the Indian cricket board that teams Chennai Super Kings and Rajasthan Royals should not be allowed to participate in the championship.
The apex court has also put aside its interim order on the spot-fixing case for tomorrow.
The Supreme Court has proposed that former India captain Sunil Gavaskar be made interim President of the BCCI in place of N. Srinivasan till the bench gives a final verdict in the matter.
The top court has also said any person associated with Chennai Super Kings owners India Cements should not be involved with the BCCI.
Taking a very strict view of the spot-fixing in the Indian Premier League, the court has asked the cricket board to come up with its response on its proposals tomorrow.
BCCI chief N Srinivasan is in the line of fire for clinging on to the president's post despite his son-in-law Gurunath Meiyappan being indicted in the spot-fixing scandal — a decision the court has found "nauseating".
A three-member court-appointed committee headed by former Punjab and Haryana Chief Justice Mukul Mudgal had also probed Rajasthan Royals owner Raj Kundra for possible betting.
Earlier, on Tuesday, the Supreme Court called on Mr Srinivasan to step down to ensure a probe into illegal betting during last year's Indian Premier League, in which his son-in-law has been indicted, is fair.
Former BCCI presidents Shashank Manohar and A.C. Muthiah have come down heavily on Mr Srinivasan on much the same lines as the court, which dubbed his continued clinging to the president's chair as 'nauseating.'
Srinivasan, regarded as the world's most powerful cricket administrator, is set to take over as chairman of the International Cricket Council board in July. (Deccan Chronicle)
Latest Headlines in Sri Lanka