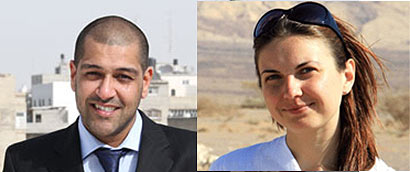 Six men went on trial in Sri Lanka on Wednesday on charges they murdered a British aid worker and gang-raped his Russian fiancée, following two years of international pressure to prosecute the defendants, who include a member of the country's ruling party.
Khuram Shaikh, a 32-year-old Red Cross worker based in Gaza, was shot and stabbed to death at a hotel while on holiday in 2011. Victoria Tkacheva was beaten unconscious before being sexually assaulted, according to hospital and police records.
Giving evidence at the opening of the trial on Wednesday, Tkacheva identified one of the accused, saying he had kicked her face and head repeatedly by the hotel pool.
The six accused included Sampath Vidanapathirana, head of the town council in Tangalle, where the couple were staying, and a supporter of President Mahinda Rajapaksa's party.
Delays in bringing the case to trial have added to criticism of Rajapaksa's government. Sri Lanka already faces a U.N. Human Rights Council resolution accusing it of rights abuses and war crimes. Its commitment to the rule of law has been questioned since it removed a chief justice from office in 2012.
The government said the delay in bringing the case to court was necessary to allow forensic tests to be completed.
Friction between Sri Lanka and Britain over the case grew before Commonwealth summit in Colombo last November. Vidanapathirana had been granted bail in 2012 and allowed to remain in his town council position. But he was indicted soon after the Commonwealth meeting and then arrested after allegations he had attempted to intimidate the main witnesses.
He was later sacked by the party. (Reuters)