UNHRC adopts resolution on Sri Lanka
Posted by Editor on March 28, 2014 - 7:57 am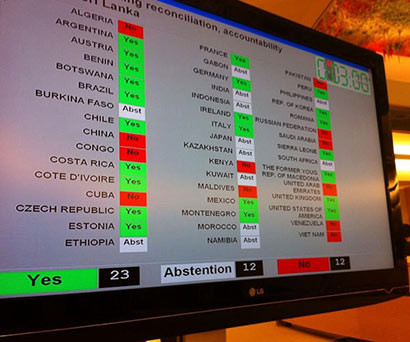 The US-sponsored resolution promoting reconciliation in Sri Lanka was adopted during the 25th session of the United Nations Human Rights Council today with a majority of 11 votes.
Twenty-three counties voted in favor and 12 voted against it while 12 nations abstained from voting on the resolution, which for the first time explicitly calls for an international probe.
Members of the 47-nation U.N. Human Rights Council agreed to set up the yearlong investigation, estimated to cost $1.46 million, based on the recommendation of U.N. High Commissioner for Human Rights Navi Pillay.
The council approved a US-led resolution authorizing Pillay's office to launch "a comprehensive investigation into alleged serious violations and abuses of human rights and related crimes by both parties in Sri Lanka." The inquiry also seeks to hold perpetrators accountable.
India, South Africa Japan, and Indonesia were among the countries which abstained from voting on the resolution while Russia, Cuba, Venezuela, China, Russia, Maldives voted against it.
The resolution was taken for vote following much delay after Pakistan suggested a no-action motion to postpone it due to insufficient funds and China demanding time for an explanation prior to the vote.
The no-action motion, backed by Cuba and Russia, was eventually defeated with a majority of 9 votes. 16 members voted in favour while 25 voted against and 6 states abstained.
Due to the defeat of the no action motion, the call to remove the paragraph empowering an international investigation was taken up for vote.
The paragraph was kept in the resolution with 23 voting to keep the paragraph and 14 voting to remove it and 10 abstaining.
Countries that voted 'Yes':
Argentina, Austria, Benin, Botswana, Brazil, Chile, Costa Rica, Cote D'Ivoire, Czech Republic, Estonia, France, Germany, Ireland, Italy, Mexico, Montenegro, Peru, South Korea, Romania, Sierra Leone, Macedonia, United Kingdom and the United Station of America.
Countries that voted 'No':
Algeria, China, Congo, Cuba, Kenya, Maldives, Pakistan, Russia, Saudi Arabia, U.A.E, Venezuela and Vietnam
Countries that Abstained:
Burkina Faso, Ethiopia, Gabon India, Indonesia, Japan, Kazakhstan, Kuwait, Morocco, Namibia, Philippines and South Africa
(Courtesy : Ada Derana)
Latest Headlines in Sri Lanka