China urges closer cooperation with Sri Lanka on key projects
Posted by Editor on October 31, 2017 - 8:01 am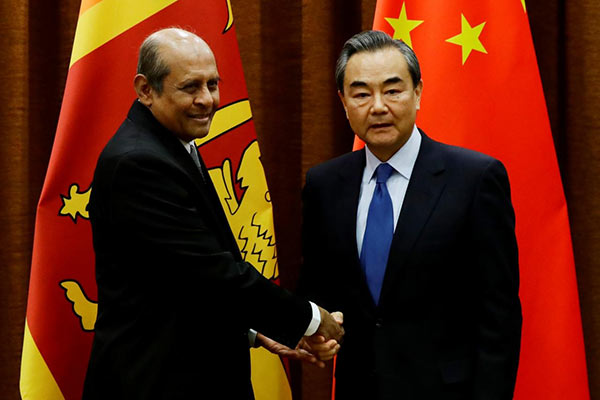 China and Sri Lanka should focus on strengthening cooperation over key investment projects, Foreign Minister Wang Yi on Monday told his visiting counterpart from Sri Lanka, amid strong local opposition to some major Chinese-invested schemes.
In July, Sri Lanka signed a long-delayed $1.1 billion deal to lease its southern Hambantota port to China, ignoring an appeal by opposition parties to debate the pact in parliament.
The $1.5-billion port, close to the main shipping route from Asia to Europe and likely to play a key role in China's "Belt and Road" initiative, has been mired in controversy since a Chinese firm agreed to take an 80 percent stake in it.
The pact signed last year sparked widespread public anger, as Chinese control of the port, which included a plan for a 99-year lease of 15,000 acres (23 sq miles) to develop an adjacent industrial zone, provoked fears it could be used by Chinese naval vessels.
Meeting in Beijing, Wang told Tilak Marapana that the two countries should take this year's 60th anniversary of establishing diplomatic ties as an opportunity, China's foreign ministry said in a statement.
Both should "emphasize strengthening traditional friendship and political mutual trust, major infrastructure projects, investment and trade" to "upgrade" their relationship, Wang added.
The short statement did not mention any specific projects.
As one of the first countries to help in Sri Lanka's post-war reconstruction after the 2009 end of its 26-year civil war, China's ties with Sri Lanka have unnerved India, traditionally the island nation's most important partner.
By 2014, Chinese navy submarines were also docking in Colombo, raising alarm in New Delhi and prompting a push by the administration of Prime Minister Narendra Modi to claw back influence in the region.
(Reuters)
Latest Headlines in Sri Lanka