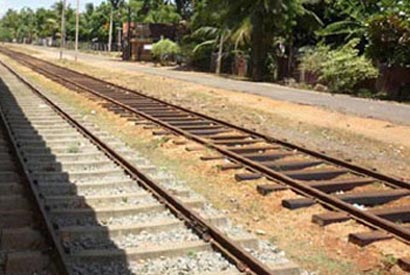 A Chinese company is to be awarded the second and third stages of a railway line project valued at 600 million U.S. dollars in Sri Lanka, an official said on Tuesday.
The project in southern Sri Lanka will be between the towns of Beliatta and Kataragama, according to Transport Minister Kumara Welgama.
Funding would come as a loan from the Exim Bank of China and the construction would be conducted by the China National Machinery Import and Export Corporation (CNMIEC).
The first phase of the project from Matara to Beliatta to extend the railway line by 28 km is already under construction by CNMIEC at a cost of 272 million U.S. dollars.
"We have decided on the Chinese company as the Exim Bank has agreed to grant a loan for the project," Welgama told reporters.
The first phase of the railway line is expected to be completed by 2016.
The railway line will run parallel to a highway also built mostly with Chinese funding.
Since Sri Lanka ended a 30-year war in 2009, China has emerged as the island's largest loan provider, granting 1.2 billion U.S. dollars in 2009 and 821 million U.S. dollars in 2010. Last year alone, China accounted for more than a quarter of all foreign funding coming into Sri Lanka, according to the Sri Lankan Finance Ministry.
China remains involved in almost all the large scale projects taking place. Some of the biggest projects include a 1.3-billion-U. S.-dollar coal power plant on the northwestern shore and a 1.2- billion-dollar harbor in the south. (Xinhua)