Chinese economic hit men have invaded Sri Lanka – Harsha
Posted by Editor on January 28, 2012 - 8:16 am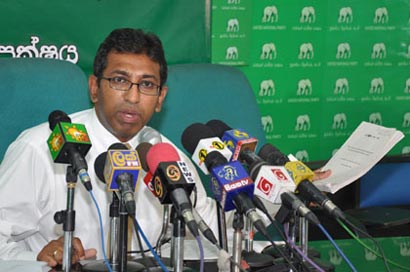 The Mahinda Rajapaksa government, which included the likes of Minister Wimal Weerawansa, who paraded as patriots, had allowed the 'economic hit men' from China to invade Sri Lanka, causing serious geopolitical implications for Indo-Lanka relations, UNP MP Harsha de Silva said yesterday.
He told a news conference in Colombo that the SLFP and leftist political parties, who were all now part of the Rajapaksa regime, used to unfairly accuse the UNP of mortgaging the economy to the West, but they had beaten all administrations since Independence, by virtually selling the entire country to the Chinese.
Having obtained unsustainable high interest loans from China for various projects, the government was not in a position to pay them back, Dr. de Silva said, adding that it was now trying to convert debt to equity as evident by Minister Sarath Amunugama's recent statement that China should be permitted to own and operate the Norochcholai coal fired power plant.
Dr. de Silva said that the China Harbour Company had already acquired 85 percent of the Colombo South Port Terminal for a period of 35 years and considering the free reign it enjoyed, the entire terminal would be within its control very soon.
Eighty percent of transshipment at the Colombo Port was Indian based and they obviously would have reservations about going through the Chinese dominated CSPT, knowing very well that the Rajapaksa government allegedly manipulated the paper work which prevented Indian companies from bidding for a stake, Dr. de Silva observed.
The China Harbour company, the MP said, could not win an open tender for the Colombo Port Breakwater, but was given the contract on a platter to construct the first phase of the Hambantota Port and Hambantota Stadium.
Courtesy: The Island
Latest Headlines in Sri Lanka